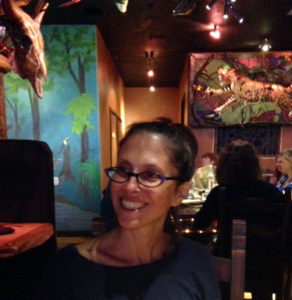 Planet Thrive founder, Julie Genser, has started a fundraiser for herself on GoFundMe.com. She is raising money for a downpayment on a home that is safe for chemical and electromagnetic sensitivities. Julie was poisoned by a vaporized mercury thermometer in the mid-90's and her health and life were severely affected. It's been an uphill battle since then to regain her quality of life. In the years following the mercury accident and subsequent toxic exposures, she became what is known as a "Universal Reactor" – someone reactive to chemicals, foods, electromagnetic fields, molds, sunlight, vibrations, sound, and other people's energy. She had to leave her home, family and belongings in New York and travel to Florida and then Arizona to find housing that could support her limited function. Throughout her ordeal she created this website, Planet Thrive, to help others manage their conditions and receive support.
Julie was a big proponent of brain retraining when it was first introduced as a means to heal from environmental illness, and later was able to improve enough to leave the safety of the community she lived in for five years in Snowflake, Arizona to move to the more populated spiritual mecca of Sedona. She has thrived in Sedona for three years but is losing her safe housing and is at risk of becoming homeless. The housing market is very tight for long-term renters due to the recent law allowing home owners to do Airbnb.com short term rentals, and her chemical, mold and EMF sensitivities have prevented her from finding suitable affordable housing after six months of daily searching. She is appealing to her community to help her raise the funds for a downpayment for a forever home after her savings were depleted by her twenty year journey with severe illness.
Julie is asking for those who support her goal of securing a safe long-term housing solution to purchase "metaphorical love bricks" at whatever price they can afford, starting at $1. She loves the idea that her new home will be built with love and that she will forever be surrounded by the supportive energy of her community. Her call out to her community on Facebook:
To all those who care about me, to all those who love me, to all those that would love to see me remain a vibrant part of the Sedona community, to all those that have benefited from me at some point in their life — if I helped you get through a hard time through my websites PlanetThrive.com, BuhnerHealingLyme.com, LimbicRetraining.com or my non-profit reshelter.org, if I did a fundraiser for you, helped get you clothing or bedding or food, searched for housing for you — if you love reading my inspirational Facebook posts, if you benefit from websites and groups I created in the past (A Million Faces of Environmental Illness, EI Safe Housing, MCSSafeHomes.com), if you don't know me but appreciate the energy I put out into the world, if you have attended dinners through my group Sedona Women's Supper Club, if you look forward to attending events through my new group Sedona Social Club, if you benefit from the Sedona Sacred Circle women's group I started, all of these free resources I have put my blood, sweat and tears into for many years and never asked for anything back, now is the hour that I need you. I kneel before you, emotionally naked and raw, asking for your support. Please donate as much as you are able — $1, $5, $20, $1,000 or more — to join with me in creating a miracle. My very own miracle. Thank you!
If you would like to make a contribution and help Julie create long term stability for herself from which she can continue to help others, please go to her fundraiser on GoFundMe.com at Medical Home for Julie. Thank you for supporting Julie, and Planet Thrive.