posted in <<ARTS & ENTERTAINMENT > Word
saying no
by Sweigh Emily Spilkin

Every once in a while


when I'm not busy trying to adapt—


i.e. find an air filter that won't make me sick


scrub the dryer with vinegar to get the Bounce out


open the windows when I burn something


then close the windows when


the lawn men come, maskless, to hold back the weeds—
or when I'm not busy caring for myself—


the daily hikes saunas supplements pills research


kinesiology doctors cranial work yoga masks
organic meat buck up positive thinking transmuting


dark energy toxins into light bone breathing chi
kung gratitude glutenless processless living without just be—

I allow myself to imagine a world


without toxic chemicals where we'd let the grass go to seed


let the sun dry our clothes use baking soda to wash


wear light colors the way the fibers were grown


go slow breathe a world


where I could walk down the "street"


without feeling sick
A world imbued with wildness wool cotton wood


linseed oil rock mud clay flesh radiance simple

But this this is the world I choose to live in
this complicated multi-syllabic multi-celled multi-


compounded multifarious world.

Or did I choose to come here to change it?

When I have more energy I think.


Right now it's all I can do:

Dr. Brunschwig's catnip mosquito repellant


Dr. Bronner's organic glycerin soap


Aubrey's Titania Maker's Diet approved sunblock


Alleraire filter from Canada where they've banned ozone


Ozone but for the car only and only when I'm not in it


Cellophane bags from cellulose plant fibers so the


refrigerator rays don't zap my food

Flat screen 0 emf emissions so the computer rays don't zap me


carpets out bamboo in glueless caulkless—

This heart-breaking isolating disease


canaries in a mineshaft no one should have gone down in the first place


black dust turning our yellow feathers lung alveoli fat cells


black with mercury and dust
have you tried the new latex bed it's


yummy—

No. I can't go thank you. No the chlorine. No


Would you mind changing your clothes? Would you mind taking a shower?
No, it doesn't work for me. No, thanks anyways, they just sprayed pesticides. No,


it's a new construction. No, I'm too overloaded. No, I just ate something


I shouldn't have, better get home. No.

Right when I was learning how to say yes


to pleasure to community to feet on the earth


along came no again.


No. A lonely little word.

Pleasure every once in a while I remember you


in the midst of sickness.


Am I sick?

Out in the middle of


La Garrita wilderness


between Gunnison and Saguache


up little creek trail valley


beneath half moon salt skin pass


behind Mt.Wheeler

and the two magical volcanic towers
one male and one female


monolith and moon cave


and high alpine grasses and ravens
and bristlecone pine and badger crouched low


hunting picas in the scree


and bristly wind and snow patches in August and

hoof prints and elk grazing and owl
flying low

black shadow hovering


against 10pm studded constellation sky—

I'm fine.
I'm more than fine


I'm alive.

The wind itself


blowing through my veins

the icy river my blood

Remind me

I say to him on our last morning in


remind me that at one time I felt this good


and I go back one foot in front of the other

and I forget.

Too busy trying to live in this world


with its harsh need to change me

And why so I can

warn


inspire


sing


suffer?

Barely any way to "make a living"


which I swore I never wanted to do anyway


that day in the Arizona desert when I lamented to the saguaro


and it lamented back

So what now? This turning towards the darkness


plunging into the old caves?

20% of the people who get this disease kill themselves

she tells me


because they can't fit into this crazy


soulless earth poisoning

freedom denying world


we've dreamt up for ourselves.

and who's the we?


did I do this?


do I keep doing this?
and how

do I stop?

No says my liver. No, lungs. Cerebral cortex. Hypothalamus.


Kidneys. Adrenals. Thyroid. Parathyroid. No. The tissue of the


same stuff the same cells soils dusts

particles space


matter as this earth we live on/in.
In systems theory, there's always some part of the system,
a "weak link"

the early warning

in a group always some member
of the circle

the scapegoat the creative change agent the rebel.

part of his heart just decide to beat faster


to do something different


some rebel cells.
Who's elected to create change?

It's not me it's my


peptides proteins fluids.

We are all that part of the system.

And when the body no longer gives you a choice?

What does it mean to be well

Well. I um, well.


in a sick world?


The only true choice is to listen.
© Sweigh Emily Spilkin 2006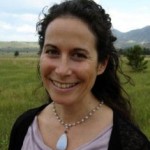 Sweigh Emily Spilkin, MFA is a poet, healer, and guide. Sweigh lives in a sleepy corner of Boulder, CO where she wanders through the foothills, teaches poetry, practices chi kung energy healing, and on a good day, writes. Sweigh loves and is terrified of the Mystery. Over the last three years, a journey with chronic illness has taught her lessons she never wanted to learn, and she is grateful. Sweigh received her MFA in poetry from Naropa University in 2000.
Leave a reply