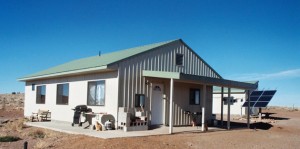 Planet Thrive has replaced it's classifieds section—which contained listings for safer housing, trailers, used health products, jobs, services, and events—with a stand-alone site called MCSsafehomes.com. This site will have housing & trailer listings with full color photos, resource links for buying/renting/building a safer home or trailer, and a blog with features on people living with environmental sensitivities (to chemicals, electric, the sun, etc.) and their housing stories.

Planet Thrive founder, Julie Genser, says
There is such a huge need for safer housing for the thousands of people with severe environmental sensitivities—living in cars, backyard sheds, and rundown trailers across our country, not to mention those suffering in isolation in their homes built with standard toxic building materials or poisoned by indoor pesticide/insecticide applications. Yet, there is no website out there focused 100% on this issue. MCSsafehomes.com is the first of its kind.

For those interested in placing a (FREE) housing listing or suggesting resources and/or future feature ideas, email all pertinent information and photos to planetthrive@gmail.com.