posted in <<ARTS & ENTERTAINMENT > thrive! Cinema
Earthlings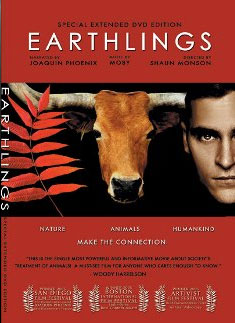 EARTHLINGS is an award-winning documentary film about the suffering of animals for food, fashion, pets, entertainment and medical research. Considered the most persuasive documentary ever made, EARTHLINGS is nicknamed "the Vegan maker" for its sensitive footage shot at animal shelters, pet stores, puppy mills, factory farms, slaughterhouses, the leather and fur trades, sporting events, circuses and research labs. The film is narrated by Academy Award® nominee Joaquin Phoenix and features music by platinum-selling recording artist Moby. Initially ignored by distributors, today EARTHLINGS is considered the definitive animal rights film by organizations around the world. "Of all the films I have ever made, this is the one that gets people talking the most," said Phoenix. "For every one person who sees EARTHLINGS, they will tell three."
In 1999, writer/producer/director Shaun Monson began work on a series of PSAs about spaying and neutering pets. The footage he shot at animal shelters around Los Angeles affected him so profoundly that the project soon evolved into EARTHLINGS. The film would take another six years to complete because of the difficulty in obtaining footage within these profitable industries. Though the film was initially ignored by distributors, who told Monson that the film would "never see the light of day and should be swept under the rug," today EARTHLINGS is considered the definitive animal rights film by organizations around the world.
Nation Earth was established to produce documentary films on socially urgent issues. EARTHLINGS, released in 2005, was the company's first feature film and is the first of a documentary trilogy. The company is currently at work on the second installment, UNITY, which will explore the unifying force of consciousness found in nature, animals and humankind. UNITY is scheduled to be completed in 2009. For more information please see unitythemovie.com.
WARNING: This movie contains violence against animals and reveals the horrifying truth about the torture that goes on in slaughterhouses for which we are all complicit in supporting. Although we at Planet Thrive feel it is vitally important for humans to be aware of where their food comes from and the reality of life for animals in our food production system, we do not recommend viewing this movie if you are feeling depressed or suicidal.
watch trailer now
watch full length movie now
Leave a reply