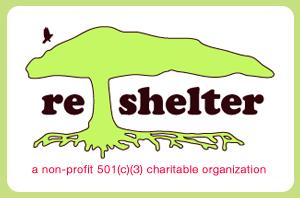 Re|shelter, a new non-profit which focuses on housing solutions for vulnerable populations affected by disabling environmental intolerances, has been approved for 501(c)(3) tax-exempt status. The organization's tax-exempt status is effective from the date of their incorporation as a non-profit, May 24, 2010.
Having tax-exempt status opens up a world of fundraising opportunities for re|shelter in 2011 and beyond. Some of the first steps re|shelter co-founders Julie Genser and Julie Laffin are taking after receiving notice is to register re|shelter on the GuideStar.org website, update their Facebook cause so supporters can donate to re|shelter directly on Facebook, and register the charity in multiple states so they can move forward with soliciting donations for a planned online auction.
Genser and Laffin will be submitting applications in 2011 for a variety of grant opportunities in an effort to raise funds for their Grant Programs for Individuals and for various housing prototype projects they have planned. Stay tuned for further details as these efforts are developed in the coming months.