posted in <<Elana's Gluten-Free Pantry > Featured > PT COLUMNISTS > THRIVE
Elana's Gluten-Free Pantry
Delicious dairy-free chocolate pudding
another yummy gluten-free recipe from Elana's pantry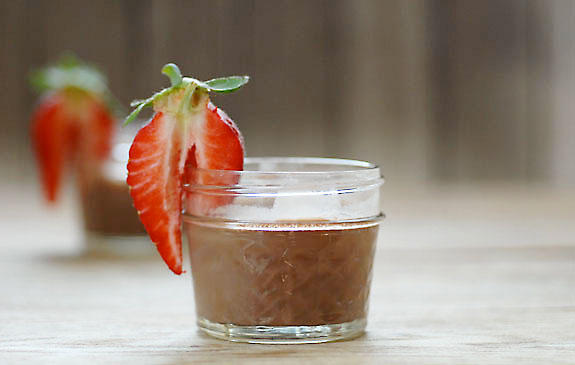 A quick and easy, dairy free, vegan chocolate pudding.
photo provided courtesy of elanaspantry.com

With a mere 4 ingredients (dark chocolate, coconut milk, xylitol and coconut oil) this low glycemic chocolate pudding is the perfect gluten free treat. I'm trying to keep my recipes as delicious and simple as possible and this dessert fits that bill. I hope you all enjoy it as much as my family did.
If you find yourself averse to using xylitol (and please don't feed it to your dogs!) then feel free to experiment with this recipe and try using alternative sweeteners. Just be sure to leave a comment letting us know what you used and how it worked out.

ingredients
½ cup dark chocolate chips
1 (13.5 ounce) can coconut milk
¼ cup xylitol
1 tablespoon coconut oil

directions
Place chocolate chips in a food processor and pulse until coarsely chopped
In a medium pot, heat coconut milk, xylitol and coconut oil to a simmer
Pour coconut milk mixture into food processor
Process until smooth
Pour into 4 ounce mason jars and refrigerate overnight
Serve
Makes 6 jars of pudding
I cannot take credit for the method in this recipe. Recently, I was going through a stack of gluten free magazines. I found a nice recipe for a Gluten-Free, Dairy-Free Chocolate Raspberry Pie in Living Without and decided to experiment with it. The result? This Easy Chocolate Pudding recipe. Sometimes my tinkering takes me in unexpected directions. I set out to make pie and end up with pudding –that is the fun of the process.
When I was a little girl, my mom and dad used to pack canned Del Monte chocolate pudding in my lunch. I loved it. This brings back those school lunch memories without all of the sugar and processed chemicals.
Finally, I want to thank Chocolate Covered Katie for inspiring the photo in this post. Very little of what we do is original.

recipe courtesy elanaspantry.com
Leave a reply