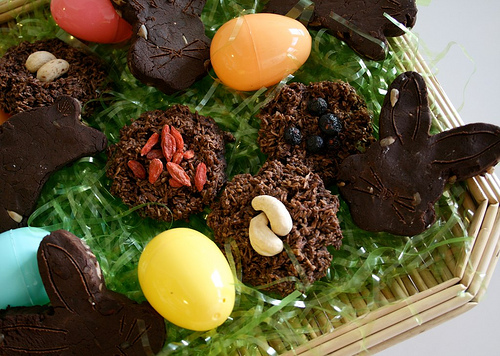 photo provided courtesy of affairsofliving.com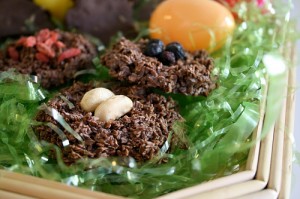 Choco-Coco Nests
Sweet and rich, these remind me of my childhood favorite: Milk Coconut Nests! Instead of using melted chocolate, I melted coconut butter and added cocoa powder. All the great chocolate flavor, without any added sugar or soy emulsifiers! The nests can easily be made with carob if you are on an elimination diet or if you are intolerant to chocolate. I make them with stevia, but feel free to use a natural sweetener of your choice instead. These are delicious, easy to make, and totally kid friendly. Sure to be a favorite!

ingredients
• 1 1/4 cup shredded unsweetened coconut
• 1/2 cup coconut butter (Artisana, Tropical Traditions, or make your own à la HEAB) or Go Organic creamed coconut
• 2 Tbsp cocoa or carob powder
• 20 drops stevia or 1-2 Tbsp agave, honey, maple, or brown rice syrup, to taste
• "egg" decoration: jelly beans, goji berries, freeze-dried blueberries, snipped apricots, almonds, cashews, etc.

directions
Line a baking sheet or tray with wax paper or parchment paper. Set aside. Get out your "egg" decoration and have ready to go!
Place coconut cream in a double boiler, or in a large glass bowl placed on top of a small pot of water (the bowl should rest on the rim of the pot, and be above the water). Bring water to a boil, reduce to a simmer, and let the coconut cream warm until smooth. Remove from heat. Add stevia/agave and cocoa/carob, and stir until smooth, then add shredded coconut.
Scoop 2 Tbsp of the mixture onto the lined baking sheet, spreading out into a 3″-wide mound. Create a small indentation in the middle, and press your "eggs" into the mixture lightly, so that they stick when the mixture cools. Once you've made all your nests, place baking sheet in the refrigerator to cool completely, about 1-1 1/2 hours.
Can be stored at room temperature, but may soften. For best freshness, store in a well-sealed jar or container in the refrigerator for up to 10 days (though they won't last that long…).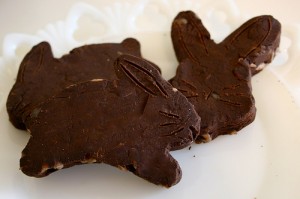 Fudge Sunny Bunnies
If peanut butter cups and chocolate rabbits had allergy-friendly babies, these Fudgy Sunny Bunnies are it. Fudgy and soft, these are a lot like my black bean fudge, but with the added twist of Sunbutter and crunchy toasted sunflower seeds. They make a great sugar-free, dairy-free substitution for traditional chocolate rabbits! Like the "nests" above, feel free to use carob powder if chocolate/cocoa poses a problem for you. If you don't want to make them in to rabbit shapes, use any other cookie cutter you'd like! Or just spread the batter into a pan, chill, and slice in squares. Kids may prefer the additional sweetness of agave, maple, or brown rice syrup to the stevia, so feel free to combine sweeteners to fit your needs and taste.

ingredients
• 1 15-oz can cooked black beans ( about 1 3/4 cup cooked)
• 1/4 cup + 1 Tbsp coconut oil
• 3 Tbsp Sunbutter (or other seed or nut butter – this would be delicious with almond butter!)
• 1 1/4- 1 1/2 tsp stevia liquid or 2-4 Tbsp agave, maple, honey, or brown rice syrup or 1-2 dates, to taste
• 3/4 cup cocoa or carob powder
• 1 1/2 tsp vanilla extract (alcohol-free)
• 1/4 cup toasted sunflower seeds (or other seed/nut that corresponds to your butter)

directions
Place all ingredients in a food processor and process on high until totally smooth and well combined, scraping sides as necessary. Mixture will be kind of dry and crumbly, but should be soft and hold its form when pressed together. Add toasted seeds and pulse a few times to combine.
Turn mixture out onto a flat surface that has been lined with plastic wrap. Pat down into a round, then cover with plastic wrap and roll with a rolling pin so it is about 3/4″ thick. Remove upper layer of plastic wrap, and using a cookie cutter, cut rabbit shapes (or other shapes) as desired. Place cut out shapes on a lined tray, and roll trimmings into a ball. Press between sheets of plastic wrap again, roll out, and continue cutting out shapes until you don't have enough dough. Chill remaining scraps as is, or cut into small cubes. Chill for 1-1 1/2 hours in refrigerator, until solid.
If you want to carve in a face, whiskers, or other details, remove from refrigerator after solid. Using a toothpick, gently draw on the details, lightly brushing away any curls of fudge. You could also make "icing" of some kind and draw on details using a piping kit.
Store in the refrigerator in a well-sealed container for up to 5 days. They can sit out at room temperature for a few hours (long enough for an Easter basket hunt!) but should be stored in the fridge for longer. Can also be frozen and thawed at room temperature or in the refrigerator until softened, if you make a big batch and can't eat it all.
Makes 8 3″-inch nests and 8 bunnies (and some leftovers).

recipe courtesy affairsofliving.com