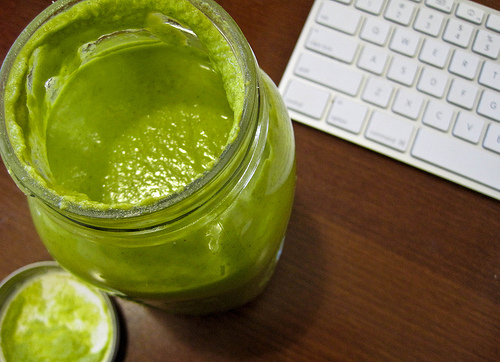 photo provided courtesy of affairsofliving.com

I'm not into thin, wimpy smoothies. No ma'am, I like my smoothies to be thick as sludge. I want to be able to feel it in my mouth. I want to chew it. This smoothie definitely fits the bill. Drink it, or eat it with a spoon. I like to eat it with a spoon, like soup, because it makes it last longer. This smoothie tastes so good you'll want to make it last as long as possible!
Craving something creamy last night, I put some cashews on to soak before I went to bed. This morning I threw them in my Vita-Mix, along with chia for fiber, a bunch of veggies, a splash of water kefir, and then a blob of coconut butter, some dried lemongrass, and a little stevia. If I would have had any fresh ginger, that would have really finished it off! It is kind of like Thai food, in a smoothie. Fresh, rich, and flavorful, it is low in carbs, a decent source of protein, and a great source of fiber and healthy fats, which will definitely fill you up all morning long without pesky blood-sugar crashes. I normally have mid-morning munchies and I was barely hungry for lunch. Best yet, it makes enough for two servings, so you have leftovers for an afternoon snack.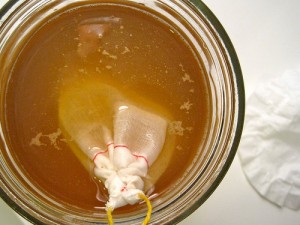 Curious about the water kefir I mention above? In a nutshell, it is water that has been cultured with kefir grains. Totally dairy-free, vegan, and loaded with beneficial bacteria.

ingredients
I use a Vita-Mix to blend, so I am able to get things perfectly smooth and can easily blend large chunks of vegetable. If you do not have a Vita-Mix or other high powered blender, you may need to chop your vegetables smaller, and stop and scrape your blender frequently in order to get things fully processed.
1/3 cup raw cashews, soaked 4-6 hours or overnight (could substitute soaked almonds, sunflower seeds, or pumpkin seeds)
1 large carrot, coarsely chopped
3-4 large leaves romaine lettuce, coarsely chopped
2 celery stalks, coarsely chopped
1 cup water kefir or filtered water, plus more as needed
1/4 tsp dried lemongrass, crushed
1 Tbsp coconut butter
1 Tbsp chia seeds
1/8-1/4 tsp vitamin C crystals or a squeeze of lemon/lime juice
5-8 drops stevia liquid, to taste
optional: small knob fresh ginger root
optional: any other magical powders, potions, or superfoods you like to throw in your smoothies

directions
Soak cashews for 4-6 hours, or overnight, in 1-2 cups of fresh water.
Drain, rinse, and place in blender. Add vegetables to blender and water, and blend to break up. If using a Vita-Mix, shove ingredients down using the tamper. If using a regular blender, pulse a few times, stop and scrape, then blend again.
Blend until vegetables are mostly broken up. Then add remaining ingredients and run on high until totally smooth, adding more liquid and scraping as necessary.
Transfer to glasses and serve, or place in a jar and refrigerate until ready to drink.
Makes 4 cups (2 servings)

recipe courtesy affairsofliving.com