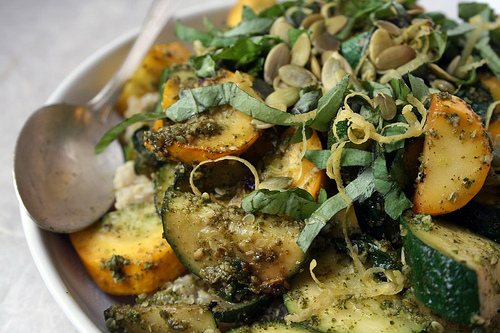 photo provided courtesy of affairsofliving.com

This is a delicious side dish that is easy to prepare. To make it a main course, toss it with cooked pasta, rice or quinoa, add white beans or cooked chicken, and stir in more pesto, to taste. Serve hot or chilled for a wonderful, versatile dish.

ingredients
4 medium zucchini
olive oil
1/2 cup pesto, or more to taste (recipe follows)
2-3 Tbsp toasted pumpkin seeds
1-2 tsp lemon zest
finely sliced basil
lemon wedges/lemon juice
sea salt & freshly cracked pepper

directions
Heat a heavy bottom saute pan and add pumpkin seeds. Toast until golden and starting to pop. Remove from heat.
Add oil to saute pan, and heat over medium heat. Add sliced zucchini, stir to coat, and saute over medium high heat for 4-5 minutes, until just slightly softened and lightly browned. Remove from heat and place in serving bowl.
Toss with pesto, adding sea salt and freshly cracked pepper to taste. Serve hot or chilled, garnish with pumpkin seeds, lemon zest, basil, and lemon wedges or a squeeze of lemon juice.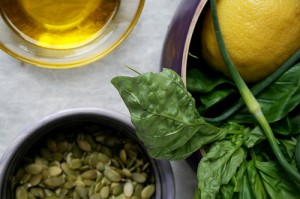 Garlic Scape & Spinach Pesto ingredients
This pesto can be used a multitude of ways – toss with raw or cooked vegetables or pasta, use as a flavorful base for dressings and sauces, or use as a spread in sandwiches or wraps.
1 cup chopped garlic scapes
3 cups fresh spinach, lightly packed
1/3 cup fresh basil leaves, packed
1/3 cup fresh parsley leaves, packed
1/2 cup raw pumpkin seeds, toasted
1/2-1 cup olive oil, or mix of olive oil and cold chicken or vegetable broth
juice & zest of 1 1/2 large lemons

directions
Toast pumpkin seeds in a sauté pan over medium until golden and starting to pop, stirring often. Remove from heat and let cool while preparing other ingredients.
Place garlic scapes and lemon juice in a blender or food processor and process until lightly chopped, then add spinach and herbs, and continue processing until just starting to mix. Slowly add olive oil/broth and continue to blend until smooth, scraping sides as necessary, until desired consistency is reached.
Add pumpkin seeds and blend until fine, and you have a coarse, grainy mixture. Add more oil or lemon juice as necessary.
Serve immediately, or store in the refrigerator for up to a week. For longer storage, freeze in ice cube trays, then transfer to freezer bags. Thaw in refrigerator or at room temperature.
makes 4 servings of zucchini, 2 cups of pesto

recipe courtesy affairsofliving.com