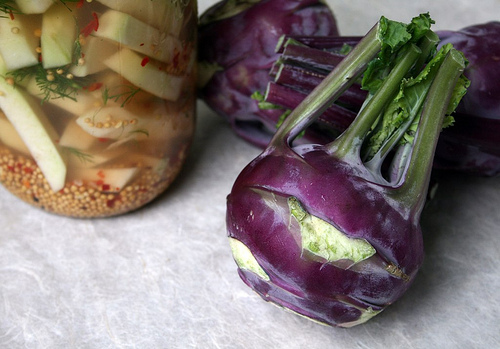 photo provided courtesy of affairsofliving.com

These naturally fermented, vinegar-free kohlrabi "pickles" are crunchy, salty, and tart, and very reminiscent of classic cucumber pickles. The natural fermentation process allows the development of beneficial bacteria and creates a live food that helps regulate digestion and restore proper intestinal flora, just like yogurt or kefir.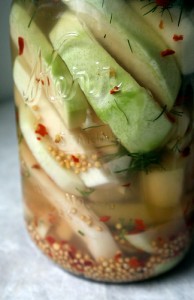 ingredients
2-3 large kohlrabi bulbs
2 Tbsp high-quality sea salt (Himalayan pink salt, Real Salt, or Maldon are excellent)
2 Tbsp minced fresh dill
1 Tbsp whole yellow mustard seeds
2 garlic cloves, peeled, crushed, sliced in half lengthwise
optional: 1/2-1 tsp red pepper flakes
1-1 1/2 c filtered water
1 1-qt. glass canning jar, sterilized with boiling water

directions
Wash and peel kohlrabi well, then slice into long sticks about 1/4″ x 1/4″. Arrange sticks in jar, layering with dill and garlic. As you are putting them in jar, press down lightly with a wooden spoon, and continue filling until there is about 1″ between kohlrabi and top of jar.
Mix together salt, 1 cup of water, mustard seeds, and red pepper flakes, and pour over kohlrabi. Add additional water as necessary to cover kohlrabi and fill until there is 1" space at the top. Cover tightly.
Let jar sit out at room temperature (ideally, 65º -70º F) for 3-4 days in a dark place on a plate or in a small dish to catch any possible leaks. Hotter temperatures will make things ferment more quickly, cooler temperatures will make for slower fermentation. You may notice hissing sounds coming from the jar – that's a good thing! After 3 days, carefully open jar over the sink (pressure builds up and it may fizz when you open), and try a pickle. It will be very salty, and should taste tart, slightly sour and yeasty. If not sour enough for your tastes, put cover back on and let sit another day or two.
Transfer to cold storage after fermenting. Can be eaten immediately, or kept for up to 6 months in the refrigerator. The flavor gets better with age!
makes 1 quart

recipe courtesy affairsofliving.com