photos provided courtesy of affairsofliving.com

Here in the United States, Thanksgiving is fast approaching. On Thursday the nation will gorge themselves on turkey, stuffing, potatoes, gravy, those pasty dinner rolls and pie. Lots and lots of pie. For those of us with allergies, such holiday meals can be like obstacle courses. The traditional Thanksgiving fare leaves us feeling left out at the family table. Thankfully, there are many delicious ways to keep the spirit of Thanksgiving without sacrificing your diet. Here are some of my favorite recipes that are perfect for holiday get-togethers and good enough for grandma to enjoy. So, let's be thankful!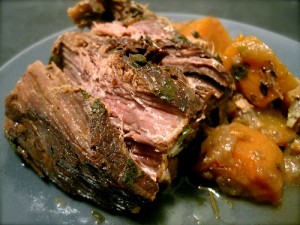 Crock Pot Roast Beef with Root Vegetables ingredients
yield: 6-8 servings
active time: 15-20 minutes prep
total time: 9-10 hours (includes slow cooker time)
2-lb beef roast, grass-fed and antibiotic and hormone-free preferred
1 Tbsp olive oil
1 medium onion
3 large carrots
2 large parsnips
2 large turnips
1 tsp thyme
1 tsp rosemary, lightly crushed
3-4 Tbsp chopped parsley
1 tsp salt
2 cups chicken or beef broth

directions
Wash and peel carrots, turnips, and parsnips. Chop vegetables into 1 or 2 inch chunks, and cut the onion into eighths. Set aside
Heat olive oil in a saute pan over medium heat. Sear the roast evenly on all sides (this takes less than a minute on each side), flipping just when meat turns brown. When all sides are evenly browned, transfer the roast to the crock pot.
Place the onions in the saute pan, adding a little more olive oil if necessary, and saute for 2-3 minutes. Add carrots, turnips, and parsnips, along with 1/2 cup broth, thyme, and rosemary, stir, and cover. Cook for 4-5 minutes on low, then stir, adding parsley and scraping the bottom and sides of the pan to get all the good caramelised stuff. That's where the flavor is! Transfer vegetables, cooking liquid, and any leftover scrapings into the crock pot. Add salt, pepper, and remaining 1 1/2 cups broth.
Cook on low heat for 9-10 hours, until vegetables and meat are tender. Serve straight from the crock pot for a particularly rustic experience, or separate out veggies, meat, and cooking liquid and serve family style or on individual plates. If making gravy (see recipe below), you'll want to separate everything out or drain out the cooking liquid and remove some veg. Looks lovely served family style on a large platter, with meat surrounded by tender chunks of vegetables, with gravy on the side! Garnish with sprigs of herbs.

Fourless Gravy ingredients
yield varies
This simple broth is made by blending the cooking liquid from meats or other chicken, beef, or vegetable stock with cooked root vegetables. When making roasted meat with root vegetables, just use the leftover liquid and the small chunks of veg; if starting from scratch, use other broth or stock and whatever cooked vegetables you have on hand. A blend of sweet vegetables like carrots and parsnips, and things like celery, onions, and garlic are delicious, but anything works.
leftover cooking liquid, cooled slightly, or any vegetable or meat broth or stock
leftover cooked root vegetables, celery, and onions

directions
Place desired amount of cooking liquid/broth in a blender, and add a scoop of the cooked vegetables. Make sure cooking liquid has cooled, since blending hot liquids can be explosive!
Blend until totally smooth and creamy, adding slightly more liquid or veggies to reach desired consistency. If desired, you can strain through a fine sieve to remove any remaining chunks.
Reheat in a small pan over low heat, then serve.
Wild Rice and Quinoa Pilaf Stuffing ingredients
serves 8-10
This stuffing uses whole grains instead of bread, but is still full of all the same delicious flavor. Stuff inside a bird, or serve on the side – either way, it is sure to satisfy.
3/4 c wild rice
3/4 c quinoa
water for soaking
water/broth for cooking
1-2 T extra virgin olive oil
1 1/2 c carrot, grated
3/4 c celery, thinly sliced
10 scallions, thinly sliced
1/3 c fresh parsley, minced
1 T dry thyme
1 T dry rosemary, crushed
1/2 tsp coriander
1/2 tsp garlic powder
1/8 tsp allspice
salt and pepper to taste
optional: handful toasted nuts/seeds
optional: handful dried fruit (apricots, currants, raisins)
optional: diced apple
optional: 1-2 T maple syrup

directions
Place quinoa and wild rice in separate bowls with 3x as much water as grain. Soak for 6-12 hours.
Rinse grains (rub quinoa together while rinsing) and drain.
Cook wild rice: I like to cook wild rice in a rice cooker or pressure cooker. If using a rice cooker, cook as directed in your owner's manual. If using a pressure cooker, follow directions for rice. I cooked mine for 15 minutes at 5 lbs pressure, placing wild rice grains and 1 1/2 c water in an oiled pan, and placing the pan and 2 c water in the cooker. If cooking in a saucepan on the stovetop, add 2 c water and rice to pan, bring to a boil, cover and reduce to a simmer. Cook until all water is absorbed and grains are tender. Remove from heat and let steam about 10 minutes, then fluff with a fork.
Cook quinoa: Place quinoa in a saucepan, add 1 1/2 c water/broth, bring to a boil, then cover and reduce to a simmer. Cook for about 15 minutes, or until all water has been absorbed. Turn off heat let sit covered for about 10 minutes. Remove cover and fluff grains with a fork.
Peel and grate carrot, thinly slice celery, and thinly slice scallion. If using apple, peel, core, and finely chop.
Heat oil in a large saute pan. Saute celery for 1-2 minutes, then add carrots, scallions, and chopped apple (if using), and saute until everything is tender. Add spices and stir to coat.
Add cooked grains to pan, stirring to mix, and heat mixture over medium heat until evenly warmed through. Cover and add a little extra broth or water if mixture is getting dry.
Serve warm. If desired, sprinkle with toasted nuts/seeds or a handful of dried fruit before serving.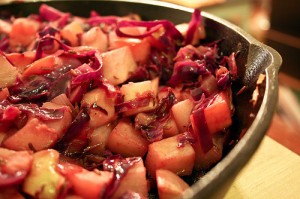 Apple, Turnip & Cabbage Hash ingredients
yield 4 side servings
2 organic apples, cored and diced
2 large turnips, peeled and diced
1 medium sweet onion, diced
2 cups finely chopped purple cabbage
2 Tbsp olive oil, coconut oil, ghee, or butter
2 tsp caraway seeds
pinch allspice
umeboshi plum vinegar, to taste

directions
Heat oil in a large saute pan over medium heat, then add onion and stir. Saute 2-3 minutes, then add turnips, stir to coat with oil, and saute for for 5-8 minutes, until turnips just start to turn slightly golden.
Then add apple, cabbage, allspice, and caraway seeds. Saute until apple and cabbage are softened, stirring often. Then crank up the heat and saute for about 5 minutes to give everything a nice little brown edge. Season to taste with umeboshi plum vinegar, and serve.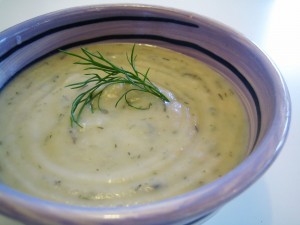 Cream of Turnip and Fennel Soup ingredients
yield about 2 1/2 qt
2 lbs turnips, peeled and diced
1 fennel bulb, chopped
1 large onion, chopped
3 garlic cloves, crushed and chopped
1/3 c white rice
olive oil
8 c water/stock + more as needed
1 tsp fennel seeds, ground
2 tsp dry dill
2 tsp dry thyme
salt and pepper to taste

directions
Heat oven to 425* and get out a big roasting pan or cookie sheet.
Wash and prepare turnips and fennel, and put in baking pan with a little olive oil. Roast for 20-30 minutes, stirring occasionally, or until vegetables are golden, tender, and roasty toasty.
While vegetables roast, heat olive oil over medium-low heat in a large stockpot. Add onions and garlic, and saute, covered for 5-8 minutes. Make sure they do not burn, you just want them golden and caramelly.
Add white rice and saute a few minutes, then add about 8 c of water. Bring to a boil, then reduce to a simmer, then cook for 20-25 minutes, until rice is totally tender.
Add roasted vegetables to pot, scraping out any caramelly bits from the pan into the pot (add a bit of hot liquid from the pot to the roasting pan and swish around to get out anything tasty you can't scrape out). Let soup cook about 5 minutes to flavor through.
Using an immersion blender or blender, blend soup in batches until totally smooth and creamy, adding additional water/stock as necessary.
Return soup to pot, and add crushed fennel seeds, dill, thyme, and salt and pepper to taste. Heat through, then serve.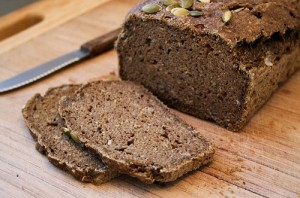 Yeast-Free Pumpkinseed Teff Bread ingredients
yield (1) 9″ x 5″ loaf
1 cup (130 grams) raw pumpkinseeds
1 cup + 2 1/2 Tbsp (190 grams) teff flour
1/2 cup (60 grams) arrowroot starch/flour
1/2 cup (60 grams) tapioca starch/flour
1 Tbsp coconut flour
1 1/2 tsp baking soda
1 1/4 tsp xanthan gum or guar gum
1 tsp salt or Herbamare
2 Tbsp apple cider vinegar (substitutions suggestions below recipe)
2 Tbsp finely ground flax seeds
1 1/2 cups water
2 Tbsp olive oil or grapeseed oil

directions
Preheat oven to 350º F. Generously oil a 9×5 loaf pan (I used glass). Sprinkle pumpkin seeds in a cookie sheet and place in oven and let bake for about 10 minutes while oven heats. Remove from oven and let cool slightly.
In a small bowl, whisk together water, flax, and apple cider vinegar, and let sit for 10 minutes. Then whisk in oil and stir to mix.
While flax absorbs water, place cooled pumpkin seeds in a blender, food processor, or coffee/spice grinder and grind until you have a fine powder, like flour. Place in a bowl, and whisk together with teff, arrowroot, tapioca, coconut flour, salt, and baking soda. Create a well in the center, and add flax-water mixture, stirring to mix with a whisk, then changing to a sturdy rubber spatula or a wooden spoon. Dough will be very thick!
Place in oiled loaf pan and press into a loaf shape with a spatula. Sprinkle with pumpkin seeds and press them lightly into the surface. Place in oven immediately and bake for 50-55 minutes at 350º, until a toothpick comes out clean. Remove from oven and let cool in pan for 5 minutes, then turn out on a rack and finish cooling. Let cool completely before you slice, if you can, or wait at least 10 minutes.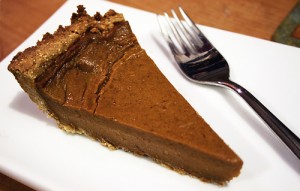 Sweet Potato Pie with Seedy Amaranth Crust ingredients
yield (1) 9″ pie
Don't be intimidated by the long recipe – this pie couldn't be easier to make! Plus, it is totally allergy-friendly – it is soy-free, egg-free, dairy-free, nut-free, refined sugar-free, corn-free, potato-free, and gluten-free. What this pie lacks in allergens it makes up for in incredible flavor! The filling is richly spiced and so flavorful, and the crust is delicious. The crust, featuring toasted seeds, is more like a graham cracker crust than a traditional pastry crust. It has a rich, nutty flavor, a nice texture, and is incredibly easy to make, much easier than gluten-free, xanthan gum-free pastry crusts. For a unique crunch, add whole amaranth grains to the crust – or leave out, if you prefer.
Filling
3 cups sweet potato puree (from about 2 1/2 pounds cooked sweet potatoes, roughly 3 large)
6 large medjool dates, pitted
1 cup canned organic coconut milk (Native Forest or Thai Kitchen are both excellent)
4 tsp melted coconut oil (or other neutral-tasting oil)
40 drops stevia liquid (plain, vanilla, cinnamon, or English toffee flavor)
2 Tbsp arrowroot starch/flour
1 tsp agar agar powder (NOT flakes) or 1 tsp unflavored plain powdered gelatin (note: gelatin is not vegan)
1/2 tsp sea salt
1 tsp GF vanilla extract or flavoring
1 1/2 tsp ground cinnamon
1/2 tsp ground ginger
1/4 tsp ground nutmeg
Crust
1/2 c raw sunflower seeds, lightly toasted
1/2 c raw pumpkin seeds, lightly toasted
1/2 c arrowroot flour/starch (or substitute teff flour, if desired)
1/2 c amaranth flour (Nu-World Foods or Bob's Red Mill are good)
optional: 1 Tbsp whole amaranth grains (or teff grains)
1/2 tsp cinnamon
1/8 tsp salt
3 Tbsp melted coconut oil (or other neutral-tasting oil)
2 Tbsp cold water
5 drops stevia liquid (plain, vanilla, or English Toffee)

directions
Bake the potatoes: Heat oven to 400º F. Scrub potatoes well, prick a few times, and wrap in aluminum foil. Bake for about an hour, until soft. Remove from oven, unwrap, and let cool. Reduce oven temperature to 350º F.
Soak the dates: While the sweet potatoes are baking, chop dates (removing pit) and soak pieces in 1/2 cup warm water.
Make the crust: While the sweet potatoes are baking, heat a heavy bottom saute pan over medium heat, then add pumpkin and sunflower seeds. Toast until fragrant and lightly golden, just starting to pop. Remove from heat, transfer to a cool pan or plate, and let cool slightly.
Grind cooled nuts and seeds in a blender or food processer until finely ground (a few chunks are okay). Mix together ground seeds, arrowroot, amaranth flour, amaranth grains, cinnamon, and salt in a large bowl until well mixed.
Once you have removed the sweet potatoes from the oven and turned down the oven temperature, add coconut oil to the seed/flour mixture, and toss with fork to evenly coat mixture with oil. Dissolve stevia in water, then add water bit by bit, combining with a fork, until a coarse, dry dough forms. If it seems really dry and won't stick together at all, add a little more cold water. Pat mixture into prepared pie pan into a crust about 1/4″ thick, and then place in the oven for about 7-8 minutes. Remove crust from oven to let cool, and finish making the filling.
Make the filling: While cools, puree soaked dates in a blender/food processor until smooth, and transfer to a small bowl. Don't bother cleaning the blender.
Peel the cooled sweet potatoes and place cooked sweet potato flesh in a food processor/blender. Puree until totally smooth, scraping sides as necessary. Remove an extra puree and save for later – you only need 3 cups of puree. Then add date puree, coconut milk, oil, stevia, arrowroot, agar agar powder, salt, vanilla, stevia, and spices to blender, and blend again until totally smooth and well incorporated. Taste for sweetness, adding more stevia liquid if desired.
Assemble the pie and bake: Pour sweet potato mixture into prepared crust and bake for about 50-60 minutes, until golden brown and bubbling under the surface. Remove from oven and let cool completely before covering or serving. Filling will become firm as it cools. Store leftover pie in the refrigerator. TIP: I like this pie best when it is chilled completely in the refrigerator, then allowed to sit out for about 15 minutes at room temperature before serving.

find more delicious gluten-free Thanksgiving recipe ideas here

recipes courtesy affairsofliving.com