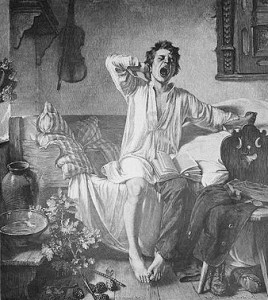 source: upenn.edu/gazette
Yawning is great for the brain. Who knew?! The act of yawning stimulates certain areas of the brain that control social awareness, empathy, and consciousness. Yawning also helps regulate the temperature and metabolism of your brain. The book How God Changes Your Brain by Andrew Newberg, M.D. and Mark Robert Waldman recommends yawning as many times a day as possible, and incorporating the practice into exercise and stress reduction programs, cognitive and memory enhancement training, psychotherapy, and contemplative spiritual practices such as meditation and yoga.
Newberg writes:
…yawning may be one of the most important mechanisms for regulating the survival-related behaviors in mammals. So if you want to maintain an optimally healthy brain, it is essential that you yawn. It is true that excessive yawning can be a sign that an underlying neurological disorder (such as migraine, multiple sclerosis, stroke, or drug reaction) is occurring. However, I and other researchers suspect that yawning may be the brain's attempt to eliminate symptoms by readjusting neural functioning.

Numerous neurochemicals are involved in the yawning experience, including dopamine, which activates oxytocin production in your hypothalamus and hippocampus, areas essential for memory recall, voluntary control, and temperature regulation. These neurotransmitters regulate pleasure, sensuality, and relationship bonding between individuals, so if you want to enhance your intimacy and stay together, then yawn together. Other neurochemicals and molecules involved with yawning include acetylcholine, nitric oxide, glutamate, GABA, serotonin, ACTH, MSH, sexual hormones, and opium derivate peptides. In fact, it's hard to find another activity that positively influences so many functions of the brain. "
Having difficulty yawning on demand? Newberg suggests forcing a fake yawn six or seven times. You'll find that a real, full-blown yawn will start to come on after about the fifth time.
They say laughter is contagious, but so is yawning. I'm just waiting for a new wave of "Yawning Yoga" to come our way. In the meantime, you can try practicing in front of the mirror and hope that you can keep yourself in a neurologically stimulating loop! Or, watch the below video. …read more