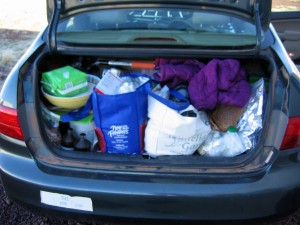 "Change happens when the pain of staying the same is greater than the pain of change." ― Tony Robbins
After experiencing enough healing after years of formal brain retraining and EFT practices, Planet Thrive founder, Julie Genser, has moved away from the safety of the chemically sensitive community in Snowflake, Arizona where she lived for five years after becoming severely disabled by environmental illness. She sold all of her protective gear for managing the illness in the process – including her oxygen tank, Heavenly Heat sauna, metal furniture, ceramic mask and tygon tubing, and many other items. Julie used the proceeds to treat herself to a raw food chef class at a non-toxic healing retreat center – something she has wanted to do for years. She took these actions as part of her own self-devised brain retraining program that uses real life to retrain the brain by creating positive new experiences to replace the old traumatic memories that cluttered her life around the time she became disabled.
Having pared down her personal possessions to fit in the trunk of her car, Julie has gone back to her former nomadic roots and plans to travel around the Southwest over the next year to spend time in various healthy communities before deciding where to settle down long-term. She still plans to live a non-toxic, chemical free lifestyle, but wanted to be closer to culture and community where she can find connection, purpose, and non-toxic career options as she creates an abundant life after years of extreme deprivation.
Read more about her move here: Leaving MCSville: Using real life to retrain my brain.