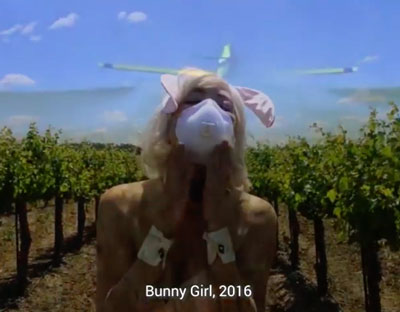 Performance artist Monet Clark's journey with environmental illness began in 1992, after a travel-required vaccination reaction. We interviewed her 11 years ago (in 2010) to share her incredible story of recovery — from being bed-bound and severely disabled with Chronic Fatigue Syndrome (CFS)/Myalgic Encephalomyelitis (ME), to living life again and continuing her career as a performance artist: Life as art: healing from CFS, FMS, and MCS.
Unfortunately, after the wildfires in California last year, a toxic mold infestation, and a case of COVID, Monet has once again found herself struggling with her health and ability to find housing and live with crippling chemical sensitivities and chronic fatigue syndrome, and now, COVID-long haul syndrome.
In an effort to raise funds for herself, Monet has made an excellent educational video/art piece blending her performance work with her personal story, as well as general information about these life-challenging illnesses to try to raise awareness for us all, while helping herself.
I often find the most inspiring pieces to be the ones that take a personal journey and share it through a larger lens, telling a story that many of us have lived, and will continue to live as long as this country values profits (and the subsequent pollution) over people. I wanted to share Monet's video with you all as an example of a wonderful way to try to help yourself raise funds, while spreading awareness and helping all others who struggle with these same conditions.
Bravo Monet, great job on your fundraising video, and great job on keeping yourself alive — this world needs you (as it needs ALL of us who are struggling with these conditions)!
To see Monet's fundraiser visit gofundme.com.