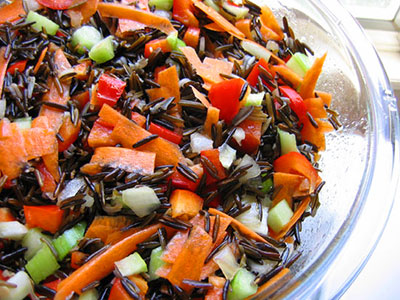 Many years ago when I first became sick with environmental illness and moved to Long Island, NY around 2005, I shopped at Jandi's natural health food store. They had a chef couple (Jenn and Seth Branitz, now owners of Karma Road in New Paltz) preparing fresh foods to-go. I fell in love with a few of their dishes, including this sprouted wild rice salad. I never got the recipe from them, but I put this together based on what I could taste. I've enjoyed it for years ever since! It's full of fresh, bright flavors from the raw vegetables and lemon juice, and has an earthy, grounded nuttiness from the sprouted wild rice and how it marinates in the dressing. I find it to be absolutely delicious and addicting. It's a great dish to bring to potlucks!
ingredients:
• 1 cup of wild rice, soaked in water for about 24 hours or however long it takes to "sprout" (open up) and become soft enough to eat — you don't want it to get too soft and mushy because you want to keep some of the texture. The length of time will depend on the wild rice you get. Be sure to buy organic. Some wild rice can take several days to sprout. Change the soaking water every 8 hours or so. Drain and rinse well after sprouting and allow to air dry.
• 2 yellow, orange, red or purple Bell peppers, diced
• 2 celery stalks, sliced into bite-size portions
• 1-2 carrots, shaved (using a peeler) and cut into bite-size portions
• several scallions or a small onion (if you love the tart bite of a raw onion), cut into bite-size portions
• 2-3 garlic cloves, minced
• dash of cayenne pepper (be careful not to over-spice)
• juice of 1-2 lemons
• olive or avocado oil to taste, ~2 TBS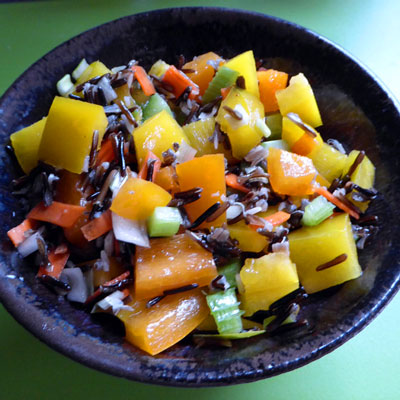 method:
1) Rinse and clean wild rice. Put into a glass bowl and cover with water by several inches. Let sit for 12-24 hours until the rice has sprouted open and is edible (not too hard and crunchy). Replace soaking water every 8 hours or so.
2) Drain wild rice and rinse well. Let air dry.
3) Add the wild rice and the rest of the ingredients together and toss well.
4) Enjoy! Tastes even better if it can marinate in the refrigerator for several hours before serving.
You can get creative with your choice of colors with the carrots and Bell peppers! Using a purple carrot or Bell pepper adds a wonderful contrast with the other colors. Having a full spectrum of colors also brings a great diversity to the nutrients in this salad. Have fun!