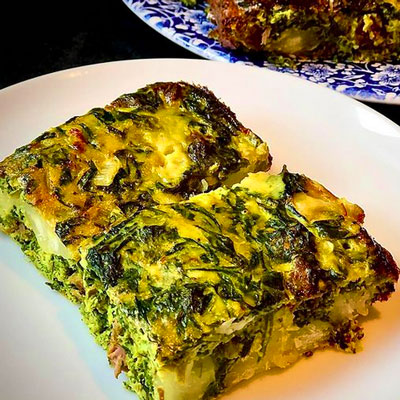 Did you know? Tagines in Tunisia are quite different than tagines found in Morocco and other countries. Moroccan tagines are baked in a special conical cooking vessel, more like a stew. Tunisian tagines are actually more like a crustless quiche with meat. Tunisians typically use lamb, chicken or tuna, with egg, cheese, potato, spinach and parsley.
ingredients:
• 1/2 lb stewing lamb, cut in small cubes
• 1/2 lb spinach, washed, dried and finely chopped
• 1 large cup cassava root, white sweet potato, or white potato, cut in small cubes, boiled and cooled
• 6 eggs, scrambled
• 1 onion, finely chopped
• 5 cloves garlic, finely chopped or minced
• bunch of cilantro leaves (~ 2 oz), finely chopped
• 2 tsp turmeric powder
• 1 tsp coriander powder
• 1/2 tsp cinnamon
• sea salt and pepper, to taste
• 1 TBS ghee, or avocado or coconut oil
optional: ~ 3-5 oz Gruyere, Emmental, goat or any combination of meltable cheese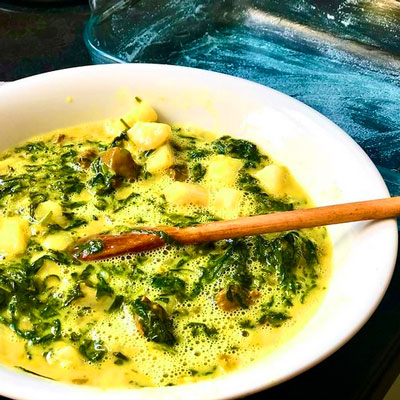 method:
1) Preheat the oven to 400 degrees Fahrenheit.
2) In a skillet, cook the meat until browned. Add the onion and continue sautéing on low heat until the onion softens.
3) Add the spices, some salt and enough water to cover the meat. Let it cook until the meat is very tender. Depending in the quality of the meat, it can take 30-40 minutes.
4) When the meat has cooked and most of the liquid has evaporated, add the finely chopped spinach, chopped coriander and garlic. Cook until the greens have wilted and there is no liquid left in the pan. Let it cool to room temperature.
5) In a bowl, add the cooled meat and spinach mixture, the scrambled eggs, boiled cassava root, and cheese if you are using it, and mix well.
6) Grease an ovenproof glass dish ( ~8″ x 12″ x 2″ deep) and add the mixture to the dish.
7) Bake for 30-35 minutes or until a skewer comes out clean.
8) Let it cool slightly before slicing.