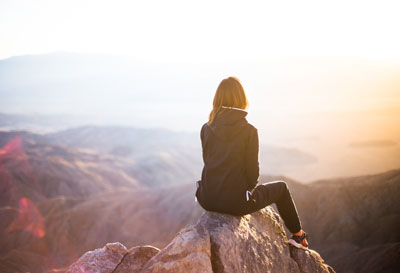 I might look normal to you but these bones, tissues and cells hide multiple severe toxic poisonings.
Aside from the typical exposures we all get from living on this planet, I inhaled a vaporized mercury thermometer — the most toxic form of mercury that goes right to the brain.
I've inhaled a lot of toxic smoke from fires — one at a garbage dump in Mexico where all the plastic and metal went up in flames, another was 9/11 and I lived downtown and breathed that air full of mercury and other toxins for months.
I've been electrocuted by a shoddy electric blanket in the dustiest of towns deep in Turkey.
I was hit hard on the forehead by a thick branch that whacked through an open window while I was asleep on a train in Cambodia.
I lost all my belongings, my prized rent stabilized NYC apartment — and my health — to toxic mold.
I got lyme disease as a child running barefoot through the grass in Massachusetts every summer.
I can go on and on with all the toxic exposures this body has endured. It's been a total shit show.
In the beginning I was at the ER multiple nights a week because of severe respiratory reactions.
I had to learn to cook for myself overnight.
I went to nutrition school to educate myself.
At my worst, I built a website and community and helped thousands of others with similar challenges as a way to make meaning of my life and distract myself from my severe symptoms.
I spent my life savings on doctors and treatments and organic food.
I spent 10 years in near isolation (COVID lockdown has nothing on this!!).
I couldn't sleep on a bed or use sheets or a blanket (only an old dirty pillow).
I went through winters without socks, just flip flops, and thin t-shirts and leggings. No coat, no underwear or bra or heating system.
I became cold adapted. I learned how to make bone broth and ferment food. I learned how to ground barefoot outside.
I danced tribal bellydance barefoot for 1 1/2 hours every day to connect with thousands of women who had danced over time. This sustained my spirit.
I managed a website community of emotionally reactive people and learned tact and diplomacy. I learned how to take the higher road and show compassion even when people were acting out.
I found a connection to Spirit and channeled my website from God.
I became an environmental refugee and fled from NYC to the beach on Long Island to South Florida then Snowflake, AZ then Patagonia and Tubac, finally landing in Sedona, my US soul home.
I can now sleep in a bed, use the heating system in my home, use sheets and blankets, and wear some clothes. My physical comfort became a priority to me after so much deprivation.
I am amazed at my growth as a person, and how this journey has shaped me and formed me into a much, much better version of myself.
Don't let the fact that I look normal fool you.
I struggle daily with so many physical and mental/emotional challenges that came with all these poisonings.
I work hard every single day of my life to maintain the health I have and improve things.
I wouldn't trade my journey but I sure wish I could move to the next chapter.
What I want you to know: it is possible to have your life become a horrifying Twilight Zone episode while still experiencing exponential internal growth and to be able to contribute to society.
It's possible to regain what was lost and create something even better.
I live in Heaven on Earth and feel blessed every day for all I have, even if all I have is a roof over my head and not much more.
Life has been really hard lately, and I know it is for many of you.
Stay strong. Stay the course. One foot in front of the other.
One day at a time. That's how you move mountains.
I know, because I've moved many to get where I am today.