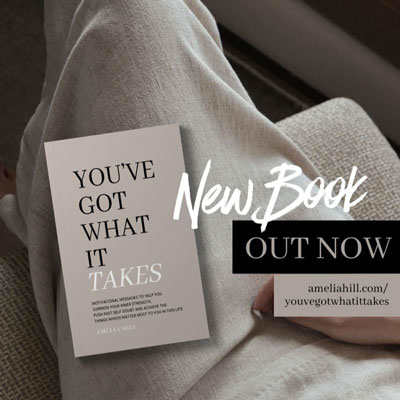 Long-time Planet Thriver Amelia Hill just published her second book You've Got What it Takes: Motivational Messages To Help You Summon Your Inner Strength, Push Past Self Doubt And Achieve The Things Which Matter Most To You In This Life. We shared about her first book back in 2018, when she published her ebook YOU CAN and YOU WILL!,100 uplifting pep-talks for those going through intense life challenges. This is her first hard copy book. Congratulations to this Queen of Inspirational Thought!
If anyone "has what it takes," it's Amelia Hill. This woman is made of grit and inner wherewithal. During the last year and a half, she has been dealing with the loss of vision in her right eye after her cornea ruptured. She now has trouble using her left eye due to light sensitivity and severe pain. Adding to this layer of disability, she has been unable to speak much for the past year because she has severe chronic fatigue syndrome and other related conditions and speaking results in dire exhaustion and pain. On top of that, she's been dealing with very severe food sensitivities, suffering severe reactions after she eats what have been her "safe" foods. At times, she's only had 1 food she could eat per day. She needs to use a wheelchair when she goes out to doctor appointments and basic caretaking needs are difficult for her to accomplish on her own.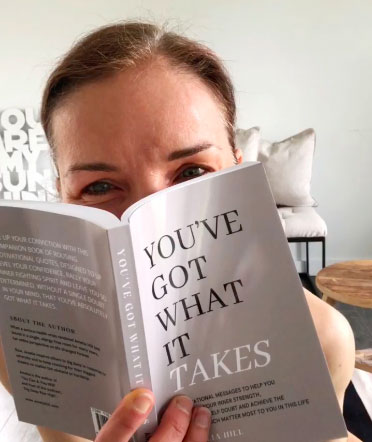 NONETHELESS, this woman had a dream and she worked on this book for a few minutes here and there and accepted the fact that it was going to take her a much longer time to complete it than most people. What was important was reaching her goal, eventually. That "eventually" is now here. I am so proud to share that her new book You've Got What it Takes is out now and available for purchase. Fire up your conviction with this companion book of rousing motivational quotes, designed to up level your confidence, rally your inner fighting spirit and leave you so determined, without a shadow of a doubt in your mind, that you've absolutely got what it takes. This collection of inspirational messages to help you rise up whenever life feels too overwhelming would make a loving gift for anyone in your life that is feeling burdened by unexpected life challenges, chronic illness, and other big stressors that we are often faced with and can feel like too much. Amelia has a ton of experience giving pep talks (to herself) and it is her dream to share her insights with the world and offer a roadmap to others to help you find your own inner strength, and know you are not alone in your struggles.
Some people's spirits shine so brightly. Amelia is one of them. Let's show our support — You've Got What it Takes is available for purchase at Amazon, Barns and Noble, Book Depository and Booktopia.
Amelia reminds me, that it doesn't matter how many times you fall down, it's how many times you get back up again. – Sussan
Amelia's words will change the way you see yourself and powerfully reframe your perspective on life. – Claire