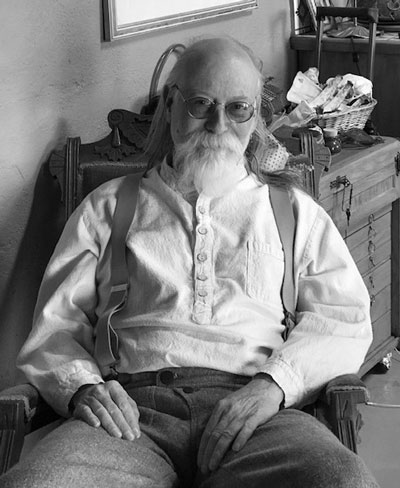 Master herbalist, prolific author, and Earth poet Stephen Harrod Buhner has died. He passed on the morning of December 8th around 9:30 am MST. As shared on his Facebook page, "He was in ceremony with friends and family. He was aware, conscious, present, open hearted and humorous. He was himself all the way through. And so very brave… He will be buried this morning in his beloved forest."
Stephen had been sharing on his Facebook page for months about his impending death from advanced lung damage stemming from idiopathic pulmonary fibrosis and related complications. Even with months to prepare for his death, it's never easy to integrate such a loss.
I worked with Stephen for seven years on the Buhner Healing Lyme Q + A column that began on Planet Thrive, later moved to its own website due to its popularity, and is now back on Planet Thrive. You can find the Healing Lyme Q + A archives here and see his responses to hundreds of PT reader questions on his herbal protocol for healing lyme disease and co-infections.
Stephen was a man who was steeped in integrity. We were blessed to have his expertise and compassionate care for the years he did the Q + A column. Millions have benefited from his writings, his protocols, and his personal time and effort to respond to individual questions. We at Planet Thrive wish him well as he travels to other dimensions and makes his way back to his spiritual-energetic home. May his body rest easy in his beloved forest. Thank you, Stephen, for the incredible legacy you have left all of us in your books and your writings. We love you.