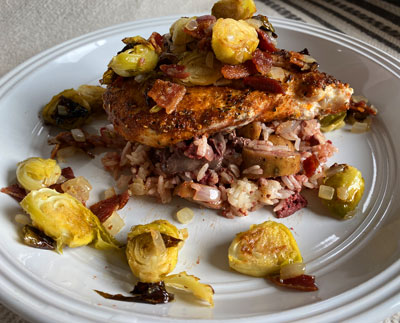 I'm a big fan of chef Robert Irvine and his show Restaurant Impossible. They go into failing restaurants and renovate in about 36 hours. They completely redo the decor, the menu, and most importantly, the owners — repairing relationships, teaching owners how to be good leaders, how to manage the financial aspect of a restaurant, etc. Because of my dietary restrictions, I often cannot eat the dishes he creates, but once in a while, I get super inspired. This dish came from his show and fortunately, he shares the recipe on his website: Blackened Chicken Thighs with Dirty Rice, Crispy Brussels Sprouts, and Mustard BBQ Gravy – As Seen on "Restaurant: Impossible".
The reason this dish jumped out at me, is because he uses chicken liver in the rice, and I've been looking for ways to incorporate more vitamin-rich organ meats into my diet. I also usually eat very uncomplicated meals with a protein, fat and maybe a carb. Think: steak and baked potato, or salmon and steamed broccolini. This recipe appealed to my tummy because it's a little more complex than my usual fare. As is typical for me, I adapted the ingredients for my simpler palette, dietary restrictions, and the foods I had available to me. The result was simply delicious! And what a treat to have so many different components and tastes to my meal.
Dirty Rice, Brussels Sprouts + Blackened Chicken
Serves 1-2
Dirty Rice ingredients
• 1 cup cooked rice (or cauliflower rice)
• 2 TBS avocado oil
• 2-3 small garlic cloves, minced
• ½ Spanish white onion, diced
• 1 sausage (whatever kind of sausage you love), cut into 1/8″ wide slices, then cut into halves or quarters — whatever your preference
• ¼ lbs chicken liver (preferably from organic, pastured chicken)
Dirty Rice method
In a stainless steel or cast-iron skillet cook onions for ~ 10 minutes, until translucent. Cook both the 1/2 c called for in the dirty rice, as well as the 1/4 c called for in the Brussels sprouts.
Remove 1/4 c of the cooked onions and reserve for the Brussels sprout dish.
Stir in minced garlic, stirring while cooking to avoid burning.
Add the sausage and continue to cook for 8-10 minutes.
In a separate pan, add seasoned chicken liver and cook over high heat for 1-2 minutes on each side.
Remove from pan and dice liver.
Add the chopped livers and cooked rice to the sausage mixture. (If you are using cauliflower rice, do not cook beforehand, just add the riced cauliflower pieces to the skillet and cook for a minute or two to warm). Season with sea salt and pepper.
Mustard Vinaigrette ingredients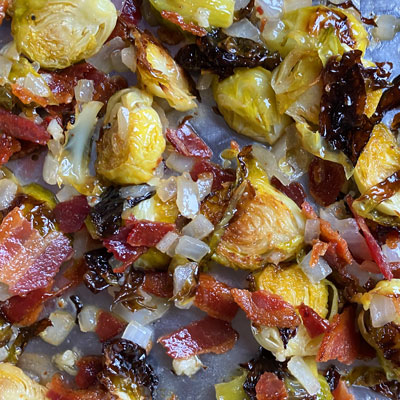 • 1/2 TBS Dijon mustard (I use Annie's Organic Horseradish Mustard because I don't tolerate the vinegar in Dijon)
• just under 2 TBS raw apple cider vinegar
• 1/3 cup olive oil
• 1 tsp sea salt
• 1 tsp black pepper
Mustard Vinaigrette method
Whisk mustard and vinegar together in a small bowl.
Slowly add the oil in a steady stream, whisking constantly until the dressing is creamy and emulsified.
Add the sea salt and pepper.
Brussels Sprouts ingredients
• ~12 or so Brussels sprouts, sliced the long way in thirds
• 4 pieces bacon, cooked and crumbled into bite-size pieces
• ¼ white onion, diced
• 1-2 TBS mustard vinaigrette
• sea salt, to taste
Brussels Sprouts method
Preheat oven to 350 degrees Fahrenheit.
Massage Brussels sprouts with a splash of avocado oil in a roasting pan until lightly covered, season with sea salt.
Bake for ~30 minutes until cooked through and crispy on the outer leaves.
Combine with the cooked bacon pieces, reserved onion, and mustard vinaigrette.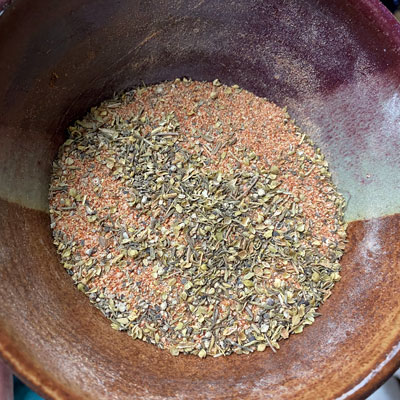 Cajun Spice Blend ingredients (for chicken)
• 3 TBS smoked paprika
• 2 TBS sea salt (or, remove this from the blend and salt to taste)
• 2 TBS garlic powder
• 1 TBS ground black pepper
• 1 TBS ground white pepper
• 1 TBS onion powder
• 1 TBS dried oregano
• 1 TBS cayenne (you can reduce this to 1/4 or 1/2 TBS if you don't want a lot of heat)
• 1/2 TBS dried thyme
Cajun Spice Blend method
Mix all ingredients together in a glass jar until combined.
Use and enjoy, or store up until a year in a sealed container. You can keep it out with your other spices — not in the refrigerator where condensation can build.
Blackened Chicken ingredients
• 1 boneless chicken breast
• 1-2 TBS Cajun Spice blend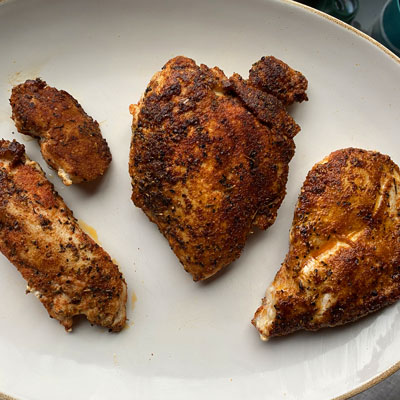 Blackened Chicken method
Before starting, bring the chicken to room temperature — take the chicken out of the refrigerator at least 20 minutes ahead of time, to help it cook evenly.
Fillet the breast and pound it to an even thickness to create cutlets. (Full chicken breasts are too thick for this recipe and the blackening spice would burn before the chicken cooks through.) Start by laying the chicken breast flat on a cutting board and hold it in place with the palm of your hand. Carefully slice through the center horizontally (parallel to the cutting board) to create two fillets. This may be easier to do when the chicken is still cold.
Put the chicken cutlets between two pieces of plastic wrap and use a mallet or rolling pin to gently pound them to an even 1/2″ thick.
Blot any excess moisture on chicken with a paper towel then lightly coat with avocado oil. I find an avocado oil spray works best for this step.
Lightly dust both sides of the chicken cutlets with the Cajun Spice blend prepared earlier.
Cook the cutlets over medium-high heat for about 4 minutes per side in a cast-iron skillet until browned and cooked through. Be careful not to under- or over-cook.
Transfer to a plate and let rest several minutes.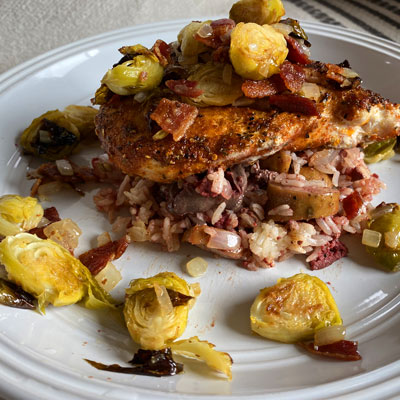 Notes: The chicken can be quite spicy, depending on how you make the Cajun Spice blend and how much of it you use. I was concerned, but found when I cut it up into pieces and mixed into the rice and Brussels sprouts, it was not an issue for me. If you prefer not to use the Cajun Spice blend at all, you can just cook the chicken with sea salt and pepper, and any other spice rub you love. The dish will still taste delicious, it just won't be Cajun!
Putting It All Together
Prepare your plate or bowl with the Dirty Rice, Brussels Sprouts and Blackened Chicken.
Eat and enjoy!