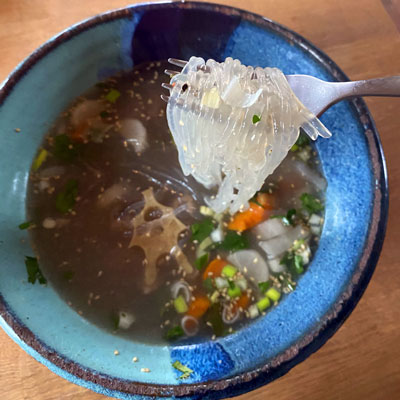 In my pursuit of eating more of a "nose-to-tail" diet, I wanted to come up with a delicious oxtail (literally, the tail of a cow) soup to enjoy on cold winter mornings. Oxtail is ideal for a slow-cooked soup because it is rich with bone, tendon, cartilage, connective tissue, and muscle meat that will infuse your broth with so much depth of flavor and nutrition. When cooked properly, the meat will become fall-off-the-bone tender.
I typically try to avoid tomato sauce-based recipes, as I do not do well with them. Sometimes I will sub in my own homemade "nomato" sauce base. But when it comes to soups, most of the time I crave a really pure, but rich, broth I can sink my teeth into. So it was to my dismay when searching for an oxtail soup recipe online, that I could mostly find tomato-based recipes. And then there appeared a light at the end of the culinary tunnel: Korean Oxtail Soup. With only a few ingredients — mainly water, oxtail, onion and daikon radish — this Asian version of oxtail soup really appealed to me. And it did not disappoint. The first time I made it, it came out absolutely delicious. I made it again with some marrow bones thrown in with the oxtail, and it did not come out as good. My advice is to stick to the recipe, and you can't go wrong.
Korean Oxtail Soup ingredients
• 2-3 lbs fresh meaty beef oxtails
• 1 lb daikon radish or Korean radish (Mu), peeled and cut into 2″ rounds
• 1 large onion, peeled and cut in half
• 1 large carrot, chopped in chunks
• 8 cups cold water (plus extra for when the broth reduces)
• 1-2 tsps sea salt, or to taste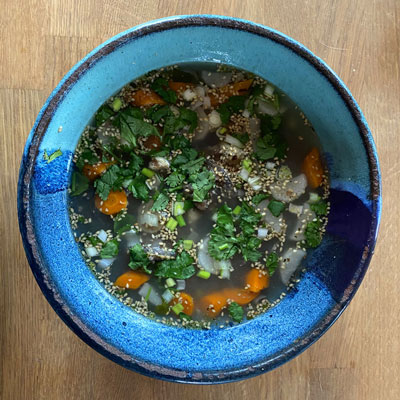 To Serve:
• 4 oz Korean sweet potato noodles, pre-soaked (see method, below)
• 4 scallions, chopped
• a few sprigs of cilantro, chopped
• seaweed gomasio, optional
• kimchi, optional
Korean Oxail Soup method

Rinse the raw oxtails and place in a pot. Cover with cold water and refrigerate (covered) for 2 hours, to drain the blood.
Dump out the bloody water, rinse the oxtail and cover again in the pot with cold water.
Bring to a fast boil for ~5 minutes until the water looks dirty and scum rises to the surface.
Drain all of the soup and rinse the bones thoroughly. Wash the pot.
The bones have now been parboiled (partially boiled, as the first step in cooking) and can be returned to the pot. Add the cold water, onion, carrot and radish. (Now, I've been told that the secret to a good Korean soup is the parboiling. So you do not want to skip this process!)
Bring to a boil, then simmer for 2-3 hours, until the meat is tender.
While that's cooking, prepare your sweet potato noodles according to the directions on the package.
When the soup is ready, add the noodles and garnish with the scallions, gomasio and cilantro.
Serve with kimchi, if you wish.
original recipe I adapted: Korean Oxtail Soup (Kkori Gomtang)