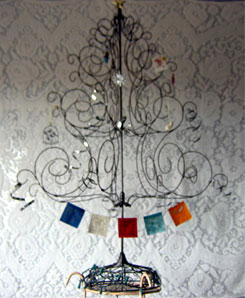 Having environmental illness (EI) often means you'll have to spend holidays alone—or spend the weeks following an event sick in bed paying for your indulgence. But because we are forced to pare down our lives to the barest essentials when challenged with chemical, electrical, and other sensitivities, it can be that much more gratifying when we figure out how to transcend the mundane from time to time and elevate our existence with a bit of ritual and symbolism.
For the more mildly afflicted, asking guests to refrain from wearing scented products and asking the host to cook gluten and sugar free (or bringing our own food) might be enough accommodation to ask for. Others may choose to host a celebration themselves and only invite guests who they know will adhere to their chemical free requirements.
But for those too sensitive to be around "normies" during the holidays but who still crave connection to tradition, I present a few options below to liven up your non-toxic celebration: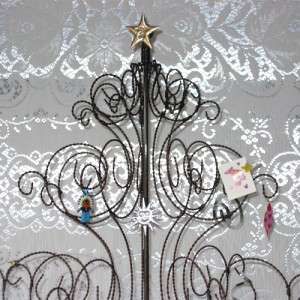 Wire Christmas Tree
Marjorie and Jim received this antique-y Smith & Hawken wire Christmas tree as a gift from Marjorie's sister years ago. Completely non-toxic, the tree stays up year-round to liven up their otherwise decoration-free living space. A former high school art teacher, Marjorie gets great pleasure from making and collecting ornaments to hang from the wire branches. To make the silver curli-qs, she takes the serrated edge of an aluminum foil carton and runs it along the edge of a scissor. Smith & Hawken is now defunct (they closed July 9, 2009) but there are variations of this wire tree out there on the market that a quick Google image search can find you.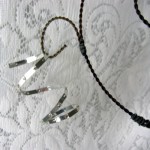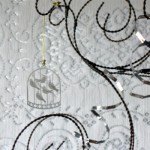 (click to enlarge photos)

Joy's tree is made of iron and is painted gold. She also purchased it from Smith & Hawken before they closed this past summer and then offgassed it outside for about a week. She used glass ornaments to decorate it and made her own garland with real pearls, aquamarine, quartz, and citrine hearts and stars from the $1 and $3 strands at the bead store – look how beautiful it looks!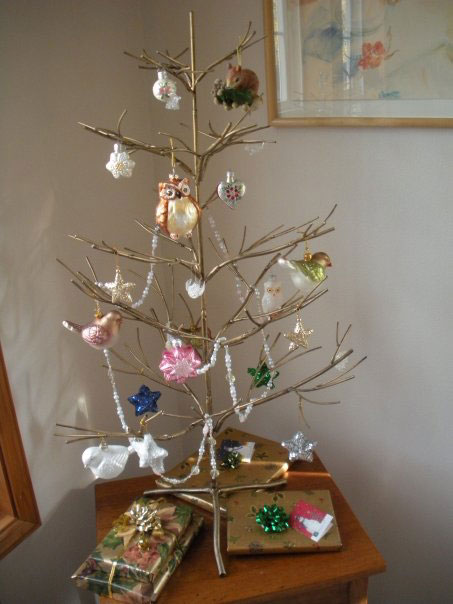 Inert Ornaments
Many Christmas tree ornaments are made of glass, ceramic or metal, which typically can be cleaned and off-gassed fairly easily. You might even make your own—crochet or knit something using tolerable yarn; hang your favorite stone with wire or string. Below are a collection of safer-looking (we haven't personally tested them) ornaments from potterybarn.com and etsy.com. To avoid mold growth during long-term storage, wrap all your ornaments carefully and store them in glass jars instead of boxes.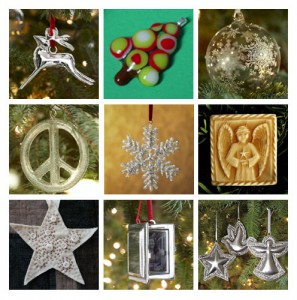 Cyber-Greetings
My boyfriend and I created a holiday card using the easy ordering service on Kodak Gallery. Last year we ordered the actual cards to snail-mail (we were so excited to announce ourselves as a new couple, we wanted friends and family to have something they could post on the refrigerator or put in a frame) but also sent the image as a digital greeting to the more sensitive on our list.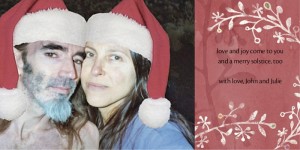 There are many companies that offer this type of service, but we encourage you to make your own using Photoshop or a similar computer application and send it through e-mail — a great way to save on postage and avoid the toxic fumes and garbage generated by holiday cards!
(For those who are wondering: No, we weren't wearing real Santa hats; we weren't even touching when we took the picture — due to our chemical sensitivities, we had to rely on the magic of Photoshop to create our holiday image.)

Safer Holiday Gifts
Choosing a gift that will be tolerable for a fellow EI can be nearly impossible. Here is one idea that most will enjoy. Reuse a decorative tin and prepare some delicious and healthy raw cookies (no cooking required!). Take the guesswork out for those on restricted diets and include the ingredient list, specifying which items are organic. Popular raw food chef and author Ani Phyo shares her recipe below: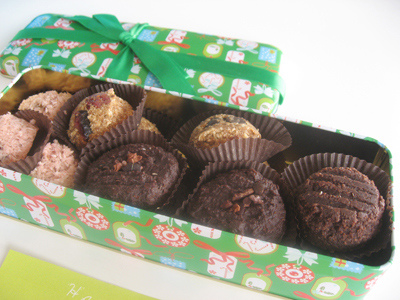 Oat Chocolate Chip Cookies
makes 21 x 2 Tablespoon sized cookies
* 1 1/4 cup raisins
* 1/2 cup pitted Deglet Nour dates (drier dates than Medjool)
* 2 cups oats
* 4 teaspoons agave or honey
* 2 teaspoons cinnamon
* pinch of salt, to taste
* 1/2 cup cacao nibs, or chocolate chips (cooked)
Place raisins and dates in your food processor and process into small pieces. Add oats, agave or honey, cinnamon, and salt. Process to mix well. Empty into a mixing bowl and add chocolate chips. Mix well. Use a 2 Tablespoon scooper to portion cookies. Enjoy immediately, or chill before serving for firmer texture.