posted in <<Eat. Heal. Live. > Featured > THRIVE! EXPERTS
Eat. Heal. Live.
Loaded strawberry lemon poppyseed bread
a delicious gluten-free, allergy-friendly, whole foods recipe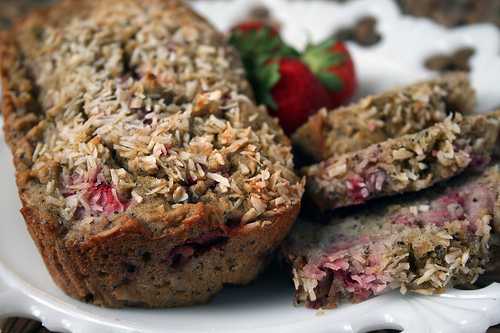 photo provided courtesy of affairsofliving.com

Baking gluten-free with eggs is much easier than baking without. Especially in things like bread when you actually want something that really holds together but you don't like xanthan or guar.
This bread is sweet and moist and lovely and incredibly flavorful, and most importantly, slices like a dream. It was one of those breads that came into existence from the perfect set of circumstances: I had a lovely container of fresh berries at the farmers market that needed to be used, eggs, lemon, a full flour bin, and the desire to bake.
Hmn.
So, I went for it. This bread is seriously loaded: strawberries, lemon, poppyseeds, coconut, cashews, and cardamom, tucked into a lovely, light, crumby loaf of coconut and sorghum flours. I added just a little teeny bit of raw honey (easily omitted if desired) with my stevia powder. If you do not tolerate either duck or chicken eggs, try using a vegan egg substitute of your choice. I haven't tried it, so I can't guarantee the outcome – but it would be worth a shot. That said, if you are not using real eggs, you may need to add 1/2-1 tsp of guar gum or xanthan gum to bind the flour since vegan egg substitutes do not bind quite as effectively as real eggs. You may also want to add a little baking powder, maybe a 1/2-1 tsp or so, to make up for the loft that eggs provide.
Sweet, flavorful, and awfully pretty, this is perfect for breakfast, brunch, or afternoon tea. It was a wonderful throwback to the days of lemon poppyseed cake, which was one of my favorite desserts. And best yet, it is another way for me to indulge my early summer obsession with strawberries. Did you see my recipe for sugar free strawberry rhubarb jam?
Happy summer, and happy baking!

ingredients
1 cup sorghum flour
1/2 cup coconut flour
1/4 cup arrowroot flour/starch
1 1/2 tsp stevia extract powder
2 tsp ground cardamom
4 tsp poppyseeds
1/2 tsp salt
1 tsp baking soda
juice and zest of 1 large lemon
1/2 cup melted coconut oil
3 duck eggs (or large chicken eggs)
1/2 cup warm water
2 cups finely chopped strawberries
1/2 cup finely chopped cashews
3-4 Tbsp finely shredded unsweetened coconut
optional: 1 Tbsp raw honey or other sweetener

directions
Preheat oven to 350º F and oil 4 mini loaf pans.
Whisk together dry ingredients in a large bowl. In a medium bowl, beat together eggs, oil, honey (if using) and lemon juice, then add water and whisk until well combined. Add to dry ingredients, stirring until just evenly moistened, then fold in strawberries, lemon zest, and cashews. Batter will be thick.
Divide into prepared pans, and smooth out batter. Sprinkle with coconut and place in oven. Bake 40 minutes, until loaves are golden and toothpick comes out clean. Remove from oven and let cool in pans 10-15 minutes, then remove from pans and finish cooling on a wire rack. Once cool, slice and serve.
Leftovers freeze well.
makes 4 mini loaves

recipe courtesy affairsofliving.com
posted on June 24, 2010 | tags: bread, breakfast, breakfast foods, brunch, dessert, desserts, gluten free, Kim Christensen, poppyseed, refined-sugar free, strawberries
Leave a reply