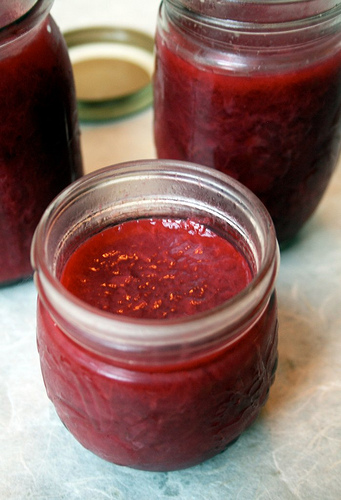 photo provided courtesy of affairsofliving.com

Instead of packing it with loads of refined sugar, this jam relies mostly on the sweetness of strawberries, along with a bit of pomegranate juice, stevia, and local raw honey. If you are vegan or intolerant to honey, you can easily substitute the honey with agave, yacon, maple, or brown rice syrup instead, or sweeten solely with stevia. This would be easy to make strict anti-candida diet (ACD) acceptable without the juice and sweetened only with stevia. If you eat honey, and have access to the honeys from Ames Farm, I highly recommend them. They are superior single source honeys with a wide variety of flavors and characteristics. I chose the spicy, rich flavor of their wonderful dandelion honey for this jam. Instead of gelatin, I used agar agar, a wonderful sea vegetable that makes a perfect gelatin substitute.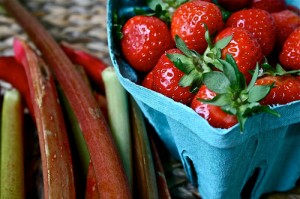 ingredients
4 cups finely chopped strawberries
3 cups finely chopped rhubarb
2 cups water or juice (I used half water and half pomegranate juice)
6 cardamom pods, lightly crushed
4 rounded Tbsp agar agar flakes or 4 tsp agar agar powder
20-30 drops liquid stevia, to taste
2 Tbsp lemon, orange, or lime juice or 1/2 tsp vitamin C crystals
optional: a couple pinches grated lemon, lime, or orange zest
1-2 Tbsp (or more) raw honey, maple syrup, yacon syrup, or brown rice syrup, to taste (omit for ACD and use more stevia)

directions
Sprinkle the agar agar over the water/juice in a medium saucepan, and let it sit for a couple of minutes. While it sits, finely chop the fruit.
Add cardamom pods and bring water/juice to a boil, then stir in agar agar, then add chopped fruit and reduce to a simmer. Cook for 10-15 minutes, until fruit is soft and mixture has thickened and cooked down slightly.
Remove from heat and stir in sweeteners, vitamin C/lemon/lime, and zest (if using), and adjust sweetener to taste.
Transfer into small jars and let chill in the refrigerator until firm. Once cool, screw on lids.
makes approximately 6 cups

recipe courtesy affairsofliving.com