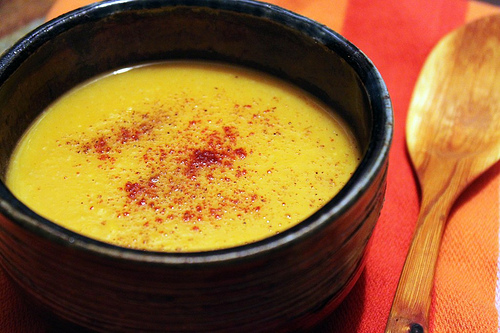 photo provided courtesy of affairsofliving.com

My pantry contents and cravings corresponded the other night, and I found myself making one of my favorite pumpkin recipes, a lovely Pumpkin Coconut Soup. I think you'll really like this soup. It has a velvety mouth feel, an alluring flavor, and a beautiful color that stimulates the senses. It is a easy to make and easy on the wallet, and packs in a ton of amazing vitamins, minerals, fiber, and antioxidants without a lot of carbs.

ingredients
recipe adapted from Pumpkin, Butternut, and Squash
This vegan soup is rich, flavorful, and filling. The original recipe calls for 2 large potatoes in addition to the pumpkin. Instead of using potato, I like to substitute a mixture of cauliflower. You can also substitute the potatoes with sweet potatoes. Choose potato or a substitute, whichever option fits your diet, tastes, and pantry best. Also, can use squash in place of pumpkin if you prefer; I'd recommend using a dense-fleshed squash like kabocha/Hokkaido, red kuri, buttercup, or hubbard. Check out my variations below for other ways of preparing the pumpkin (or squash) for this soup – each way lends a slightly different flavor.
1 2-pound sugar pumpkin
1/2 head small cauliflower, cut into chunks
1 large parsnip, peeled and cut into chunks
2 large onions, diced
2 large garlic cloves, crushed and minced
1 1/2 inches fresh ginger root, peeled and minced
2 Tbsp virgin coconut oil
2 cups coconut milk
6-7 cups vegetable, turkey, chicken stock/broth, water, or mix of both (I like a mix)
pinch cayenne pepper
sea salt and/or umeboshi plum vinegar, to taste
optional: cayenne pepper and/or fresh chopped cilantro, for garnish

directions
Slice pumpkin in half and remove seeds. Peel pumpkin and cut into 3/4″ chunks, and prepare other vegetables as directed above.
Heat oil in a large stockpot or kettle, then add onions, garlic, and ginger. Saute on low heat for 5 minutes, stirring occasionally, until onions are softened and translucent.
Add parsnip, cauliflower, and pumpkin, and stir to coat. Saute for 5 more minutes, stirring often.
Add 6 cups broth/water, and bring to a boil. Reduce heat and simmer for 10-15 minutes. Then add coconut milk and continue to cook until all vegetables are softened through.
When vegetables are soft, remove from heat. Blend until smooth using an immersion blender, or transfer to a blender and blend in batches as necessary (be careful blending hot liquids).
Return soup to low heat, adding additional 1 cup water/broth if necessary to reach desired consistency. Season to taste with cayenne pepper and salt/umeboshi plum vinegar.
Serve hot, garnished with cayenne pepper, freshly chopped cilantro, and perhaps a swirl of coconut milk or your favorite creamy yogurt-like stuff.
Store in the refrigerator for 4-5 days, or freeze for longer storage – this soup freezes really well.
Variation: Baked Pumpkin Coconut Soup
Baking the pumpkin first concentrates the sugars and gives it a sweeter flavor. To do this, heat oven to 400º F. Place unpeeled pumpkin halves cut side down on a baking sheet, and bake for 40-50 minutes, until pumpkin is soft and flesh is scoopable. Prepare the soup as directed, adding cooked pumpkin to pot with other veggies in place of the pumpkin cubes, and continue to prepare as directed.
Variation: Roasted Pumpkin Coconut Soup
For an even roastier, sweeter flavor (my favorite!!!), you can make it with roasted pumpkin. Peel and cube the pumpkin in 3/4-inch pieces, then place on a baking sheet. Coat with 2 Tbsp of coconut oil, and roast in a pre-heated oven at 400º for 15 minutes. Remove from oven, toss, and roast an additional 15 minutes, until pumpkin is soft and golden brown, but not burnt. Remove from oven. Prepare the soup as directed, adding roasted pumpkin cubes to pot with other veggies in place of the raw pumpkin cubes, and continue to prepare as directed.
makes 6-8 servings, about 3 1/2 quarts

recipe courtesy affairsofliving.com