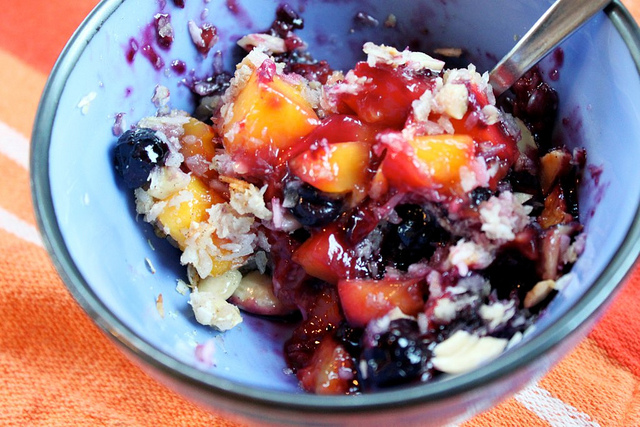 photo provided courtesy of affairsofliving.com

I am a night baker and a stress baker. As the sun goes down or my stress level rises, my immediate response is to reach for my apron, fire up the oven, and pull out the mixing bowls.
Take last night, for example. I had a lot to do – laundry, starting the daunting process of packing my possessions for yet another move, answering emails, paying bills, the list goes one. But rather than attending to any number of tasks on my to-do list, I decided to bake. The fresh mangos and blueberries hanging out in my kitchen were calling my name, beckoning me to take part in their juicy sweetness. I heeded their call. Truly, I adore fruit desserts almost above all other desserts. Especially when those fruit desserts are grain-free, gluten-free, and sugar-free.
Really darlings, trust me, it's not hard to make a delicious dessert without grains or sugar. This easy crisp is a great example! I chose a combination of mango, blueberry, and grated fresh ginger for the filling, thickened with bit of arrowroot starch. For the topping, I diverted from the expected rolled oat topping and chose a mixture of coconut, chopped cashews, and quinoa flakes. Since the fruit is so sweet already, I merely helped it along with a modest amount of stevia extract powder. Throw it in the oven and hooray, a sugar free crisp is born. And it's really good. My housemates both went in for hearty seconds. I somehow refrained to a single serving (?!?!), and relished in each sweet bite. And to top it off, the crisp looks really lovely: bright orange mango contrasting against the deep indigo-hued blueberries, covered in a flaky layer of spicy sweet golden coconut, toasted nuts, and crisp quinoa flakes. Delicious on the eyes!
Just in case you aren't in the know, quinoa flakes are totally boss. Light, flavorful, and flakey (imagine that), quinoa flakes are made from the none other than the fabulous quinoa seed. Quinoa is a wonderfully versatile seed that grows on a plant related to beets and spinach. These tiny seeds behave much like a grain, and are delicious, low glycemic, high in protein, and amino acids. Quinoa can be enjoyed as a whole "grain", as a flour, or in flake form. The flakes are excellent in baking and in porridges, and they make a great substitute for rolled oats in crisps. Quinoa flakes can be found by the hot cereals at a natural foods grocer or in the "natural" section of well-stocked supermarkets. Some natural grocers and food co-ops even have them in bulk!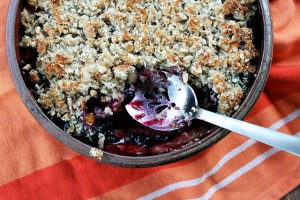 ingredients
If you do not have quinoa flakes, feel free to substitute an equal weight of rolled oats or millet flakes (if available). If you make this with oats, the dessert will no longer be grain-free, but it will still be delicious!
Crisp Topping
• 1/4 cup/45 g melted virgin coconut oil
• scant 1/4 cup/60 g applesauce
• 1/8 tsp pure stevia extract powder (I used NuNaturals brand)
• 1 cup/80 g shredded unsweetened coconut
• scant 1/2 cup/40 g quinoa flakes
• 1/2 cup/70 g chopped cashews (or other nut or seed)
• 1 tsp ground dried ginger
• 1/2 tsp ground cardamom
• 1/4 tsp ground or freshly grated nutmeg
• pinch unrefined salt
Filling
• 4 cups/660 g chopped fresh champagne mangos (from about 4 small mangos)
• 2 cup/280 g fresh or frozen blueberries
• 2 Tbsp/30 g lemon juice
• 2 Tbsp/16 g arrowroot starch/flour
• 1 Tbsp/17 g grated fresh ginger root
• 1/16 teaspoon/pure stevia extract powder (I used NuNaturals brand)

directions
Pre-heat oven to 375º F, and lightly oil a 10-inch round baking dish (or similar size).
In a small bowl, toss together ingredients for topping until mixture is evenly moistened and mixed. Set aside.
In a large bowl combine mango, blueberries, lemon juice, and ginger. Sprinkle in stevia and starch/flour, and lightly toss. Transfer fruit mixture into prepared baking dish. Sprinkle topping evenly over the top of the fruit. Bake for 40 minutes, until fruit is bubbling and topping is browned. Allow to cool for at least 30 minutes before serving. Store leftovers covered in the refrigerator.
makes 6 servings

recipe courtesy affairsofliving.com