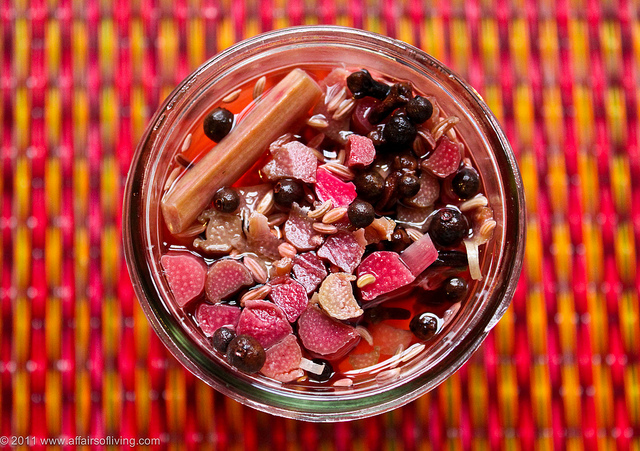 photo provided courtesy of affairsofliving.com

These pickles are inspired by cucumber bread and butter pickles. They are sour, sweet, and heavily spiced, and are a bold addition to a relish tray or served with Indian, Middle Eastern, or North African dishes. A fun and unexpected way to preserve the rhubarb harvest! I like this recipe because it celebrates the naturally tart, sour quality of rhubarb, rather than hiding it below lots of sugar. Rhubarb tends to be a bit fibrous and hard to bitd through, so you may opt to cut your stalks into shorter, bite-size pieces.

ingredients
• 1 1/4 cups apple cider vinegar (I suggest using raw and unpasteurized apple cider vinegar, such as those by Bragg's or Eden Organic)
• ¾ cup filtered water
• 1 cup maple syrup or honey
• 1 ¼ – 1 ½ pound rhubarb, thin stalks if possible (about 1/2-inch thick)
• 1 ½ inches peeled ginger root, peeled and thinly sliced
• 1 tsp whole cloves
• 1 tsp whole allspice berries
• 1 tsp whole fennel seeds
• 2 cinnamon sticks
• 4 dry chili peppers

directions
Place vinegar, water, and maple syrup/honey in a saucepan over medium heat. While mixture heats, cut rhubarb stalks into lengths that fit inside the jar with approximately 1-inch headspace (about 4-inches long if using a pint jar). If your rhubarb stalks are much thicker, slice them in half or quarters so they are about 1/2-inch x 1/2-inch before cutting into 4-inch lengths. Set rhubarb aside.
Divide cloves, allspice, and fennel between the jars. Then place rhubarb stalks inside, tucking sliced ginger, chili peppers, and cinnamon sticks between the stalks.
Pour boiling vinegar mixture over rhubarb until jars are full, leaving about ½-inch headspace and making sure rhubarb stalks are fully covered. If you have leftover brine, save to use for salad dressings or other pickling projects. Screw on jar tops and let cool on kitchen counter until approximately room temperature. Then place in the refrigerator. For best flavor, let sit for 1-2 weeks before consuming.
makes about 2 pints or 1 quart

recipe courtesy affairsofliving.com