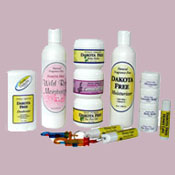 Chemical-free personal care product companies like Karen's Naturals and Dakota Free use minimal ingredients (with full disclosure), usually with a base of organic oils like jojoba, coconut or olive.
Dakota Free
After suffering from a severe pesticide poisoning, this family developed personal care and home products pure enough for themselves, and now sells the line to you from their little farm on the prairie—all natural, latex-, fragrance- and gluten-free.
Janice's
Natural comfort collection—providing relief to thousands of people with sensitivities and allergies.
Karen's Naturals
Specializing in products made for people with chemical sensitivity, asthma, allergies, skin sensitivities, those undergoing chemotherapy, and others wanting fragrance free personal care products.
Lifekind
Mission: to provide organic and naturally safer products—and information—to help you reduce your daily exposures to unnecessary and hazardous chemicals.
Magick Botanicals
Fragrance-free products for the chemically sensitive. 800.237.0674
Max Green Alchemy
Personal care products that are paraben-, petrochemical-, gmo-, sls/sles-, phthalate-, and cruelty-free—certified vegan, and of pure plant origin.
NEEDS, Inc.
Shopping site for the health conscious and environmentally sensitive person.