developed by: Dr. Amy Yasko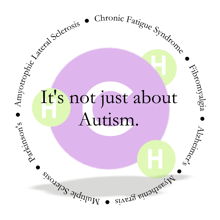 Dr. Amy Yasko's integrative healthcare practice specializes in chronic inflammation, and immunological and neurological disorders. She has achieved considerable success in halting and in some cases reversing the effects of debilitating diseases, including ALS, MS, Parkinson's disease, Alzheimer's disease, SLE, Myasthenia gravis and autism. Most recently her primary focus is on her program to help reverse autism.
At the core of her approach is genetic testing for mutations in the methylation pathway, and appropriate supplements to help bypass existing blocks.
To read more about her approach, please refer to her websites:
DrAmyYasko.com
Overview of her approach to nutrigenomic testing, for autism and related disorders.
RecoverMyChild.com
Information about Dr. Yasko's Autism Educational Starter Pack (ESP) to help you understand that through diet and supplementation you can bypass weaknesses in one's methylation pathway.
CH3 Parent Discussion Group
Database-style arena for discussion regarding Autism and other neurological disorders. Over 7,000 members strong, the discussion group is led by Dr. Amy and is a great resource for those who are in the process of recovery using her protocol.
HolisticHeal.com
Dr. Yasko's test kit and supplement store
Holistic Health International
Overview of Dr. Yasko's websites
KnowYourGenetics.com
Website for the Nutrigenomic Educational Starter Pack (ESP) which provides information on the benefits of genetic testing and specific recommendations for analyzing and comprehending genetic mutations.
see also: Richard A. Van Konynenburg, Ph.D's Glutathione Depletion—Methylation Cycle Block Hypothesis – The Simple Approach and The Customized Approach
sources: DrAmyYasko.com, RecoverMyChild.com, CH3 Parent Discussion Group, HolisticHeal.com, Holistic Health International , KnowYourGenetics.com