developed by: Ferdinand and Walter Huneke (brothers from Germany)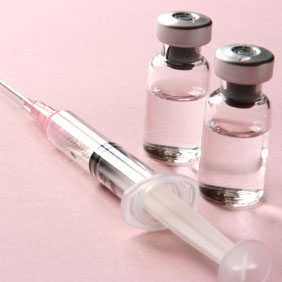 Originally developed in Germany by the Huneke brothers, neural therapy involves the injection of a common local anesthetic (Procaine/Novocain), into various points of the body. It is based on the theory that trauma can produce long-standing disturbances in the electrochemical function of tissues. The areas affected by trauma include autonomic ganglia, peripheral nerves, scars, glands, acupuncture points, trigger points, skin and other tissues. A correctly administered injection can often instantly and lastingly resolve chronic longstanding illness and chronic pain.
Neural therapy is often very effective for medical illnesses such as chronic pain, allergies, vertigo, asthma, sinusitis, eczema, rheumatoid arthritis, lupus, chronic bowel problems, kidney disease, prostate and female problems, infertility, tinnitus (ringing in the ears), and many other conditions.
Even though regional anesthesia, epidural injections, and trigger-point injections (neural therapy procedures) are widely used in the U.S., neural therapy as a comprehensive healing system is virtually unknown to most American practitioners. However, in Europe's German speaking countries it has become one of the most widely used modalities in the treatment of chronic pain and intractable illness.
Excerpted from Dr. Klinghardt's lecture "Neural Therapy C: Treating the Brain" presented at the American Academy of Neural Therapy in Seattle, December 1998:
Neural Therapy (NT)
NT can be used in several different ways:
1. Electric field effect: to generate strong electric fields within the brain or portions of the brain (segmental therapy). Various functional parts of the brain communicate rapidly with other parts of the brain by emitting electric fields (which travel at the speed of light). These are in the neighborhood of 20-40 millivolts. A procaine injection to the scalp generates a stable field of approximately 180 millivolts (for 30 minutes). These fields overlap with the brain's own fields and facilitate the growth of dendrites (increases number of new synapses) and can also activate dysfunctional synapses. The intravenous injection of procaine has a strong effect on the electric activity of the brain, leading to a more stable and synchronized brain wave pattern. The "adenoid injection" can strongly activate pituitary and hypothalamic function.
2. Anti-focal effect: A scar injection (or injection to a tooth, ganglion or other dysfunctional structure) can stop abnormal neurological signals (from scar, tooth or other dysfunctional group of cells). Abnormal signals stemming from a often remote untreated focal area are often the cause of ANS dysfunction in the brain, leading to areas of vasoconstriction, impaired transport in the ground system and inhibition of trans-membrane transport and impaired transit of nutrients across the ground system or matrix. This in turn creates a focus-specific vulnerable area within the brain with decreased immune function, decreased oxygen and nutrient uptake, and decreased detoxification abilities. The outcome is a region with increased toxic metal (and other toxin) deposition and uninhibited growth of fungi, bacteria and viruses.
3. Nutrient uptake enhancement: NT can be used to selectively increase blood flow and nutrient uptake in areas of the brain. The sympathetic ganglion blocks to the anterior neck (superior cervical ggl., stellate ggl.) are most commonly used, but injection to any of the other cranio-facial ganglia or the adenoids or sinus points may be the curative procedure. Segmental therapy is again very helpful, especially over the brainstem. The intravenous injection of procaine can be used to have a general vasodilating effect on the intracranial vessels.
4. Detoxification: NT can be used, to mobilize compartmentalized mercury and other metals or toxins (to detoxify ANS ganglia and nerves). We could show that after injection of a mercury toxic stellate ganglion (demonstrated by the use of ART or the bi-digital O-ring test) with procaine, urine excretion of Hg increased form 0 to 28 micrograms/liter of urine in the first urine voided after the injection. This result could further be improved dramatically, by adding the appropriate complexing agent into the injection. Also simple trigger point injections and segmental therapy injections can have the same effect. Therefore, NT can be used to selectively mobilize compartmentalized toxin residues, such as lead or mercury.
5. Axonal transport for targeted drug delivery: NT can be used to introduce nutrients, healing agents and detoxifying agents into the periphery of a cranial nerve or autonomic nerve and have the substance be transported axonally into the brain or brainstem – thus effectively bypassing the blood-brain barrier.
sources: Huneke Neural Therapy, Klinghardt Academy Neural Therapy
see also: Neural Therapy Part I (PDF) and Part II (PDF) by Dietrich Klinghardt, MD, PhD, Neural Therapy C: Treating the Brain by Dietrich Klinghardt, MD, PhD, Neural Therapy with Bee-Venom, Mike Dessin's Recovery From Severe ME Using Neural Therapy, A New Day support group discussing Mike Dessin's recovery treatment