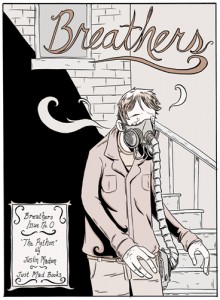 A set of comic books by Justin Madson features characters who are all wearing gas masks because the air is too dangerous to breathe. Sound familiar? The comic book creator thought he was making a fictional thriller, yet the world he depicts in issues 0-5 of Breathers is eerily familiar to those suffering from chemical sensitivity, some of whom must wear carbon filter masks or respirators just to go outside. The comic books are not about chemical sensitivity, but might provide a nice respite for some sci-fi-minded MCS folks who would enjoy losing themselves in a story where the common ground is the unbreathable air. Breathers is being featured on MTV.com currently, where you can preview the whole first issue.
From MTV:
Justin Madson's Breathers takes place in a world in which the air is so poisonous that everyone must wear gas masks at all time. 'It's become part of life almost, you know, you always have your cell phone on you, you always gotta have your breather on you,' Justin Madson said. 'Otherwise you'll die.'

When creating the world of Breathers, Madson said that he wanted to skew reality. Creating a world that is both recognizable and slightly off. 'I always like to do things with a little bit of normalcy, with a little bit of strangeness to it. You kind of look twice, it's so normal, but not. I just thought, putting the gas masks in would really create this bizarre element to it, and I just kind of ran with it after that.'"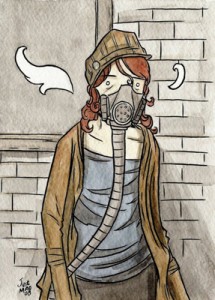 Madson is currently working on Breathers, Book 6, and hopes to have it completed by March, 2011. A trailer was made for the series – watch the trailer here; you can buy gas mask T-shirts based on the comic book characters at the movie website. Madson reported this past summer that he was collaborating with an L.A. screenwriter on a pilot for Breathers and hoped to be shopping that around shortly. We're hoping somebody takes interest, because if Breathers makes it to prime-time or cable T.V., it would surely bring some much-needed public awareness and focus to the issue of air pollution. Like his gas mask artwork? You can buy prints of his work at the "Just Mad Books" Etsy shop.