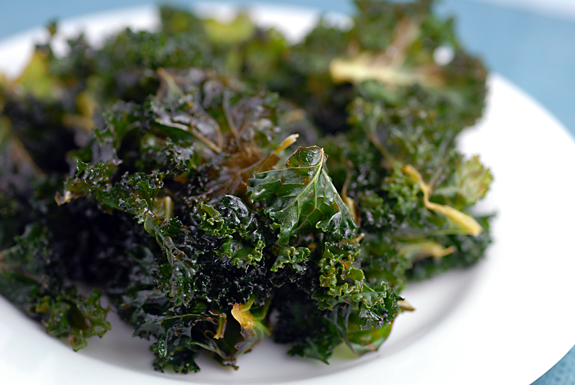 photo provided courtesy of elanaspantry.com

We are loving these Lemon Kale Chips. I can't make enough of them –the boys scarf them down hot out of the oven. Yesterday, they ate 3 batches, yes you heard that right, 3 batches of kale chips, after school. Of course, like everything else I make, these are gluten free.
You can use curly kale (as in the photo above), or dino (lacinto) kale or any other type. My boys say it is best with the curly kale.

ingredients
1 bunch kale (prepared and washed)
2 tablespoons olive oil
2 tablespoons lemon juice
¼ teaspoon celtic sea salt

directions
Preheat oven to 350°
Chop kale into ½ inch pieces
Place kale in a large bowl
With hands massage oil, lemon juice and salt into kale
Place kale on parchment lined baking sheet
Bake at 350° for 10-15 minutes until kale is dark green and crispy (Shauna from Gluten-Free Girl has a great Baked Kale Chips recipe on her site. She says the 12 minute mark is the perfect done time)
Cool and serve

recipe courtesy elanaspantry.com