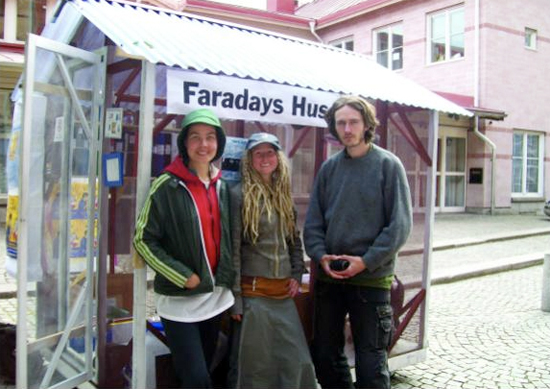 EHS activists Jennie Öberg, Nico Schmidt and Niklas Walén with their Faraday house.

A group of Swedish electrically hypersensitive (EHS) activists put up a Faraday cage shaped like a cabin in downtown Gothenburg, Sweden. The display served to draw attention to the ever-increasing electro-pollution.
Activists were on hand to talk to passers-by, and many stopped to hear about the issue.
The little hut is mounted on wheels, and was earlier pulled in a parade, while activists shouted anti-cell phone slogans referring to the fertility problems and early Alzheimer's some research suggests are caused by the radiation.
The display is named "Faraday's House" and is built of metal mesh panels, like those used to screen porches. The "house" actually works well, screening out radiation from cordless phones and cell towers, though the digital TV signals did come through.
Another activist group built a copy of the display, which has since been shown at various events, such as at an outdoor exhibition in Perstorp and a photo exhibit in Växjö.
source: Ljusglinten 2/2009, 3/2009, 4/2009. Ljusglimten is a quarterly publication of the Swedish EHS support group FEB (feb.se).