Marco Arvey shares on his blog La Voce della Verità (The Voice of Truth) an article published in an Italian magazine about a 13-year-old with chemical sensitivity in Italy, and how she has gotten support to complete middle school from home, via video conferencing. Here is the article and English translation:

MIDDLE SCHOOL VIA THE INTERNET
Thirteen-year-old sick, cannot go to school.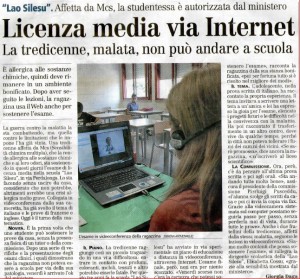 She's allergic (has an acute intolerance) to chemical substances, and must remain in a safe environment. After completing the lessons, the girl even uses the Web to take her exams.
She's battling the war against this disease, but the war against the limitations imposed by it, has already been won. A 13-year-old affected by MCS (Multiple Chemical Sensitivity) which causes her to react to chemicals and their odors, is receiving support these days by being able to take her middle school exams at "Lao Silesu" in via Pardolonga. She's doing it without leaving her home, considering she's not able to do so without it causing a very serious allergic reaction. Connected by video conference in her bedroom, she has already completed the Italian assignment, and the French and English test. Today it's time for Math.
NEWS. It's the first time a student can take tests at home without the physical presence of a tutor or administrator. After a series of tests and presentation of clinical trials, which show that the girl could not be at school, due to her illness, the "ok" from the ministry was granted on Friday.
THE PLAN. The 13-year-old thus reaches a small milestone in a difficult life, as coming in contact with perfumes, dyes, furniture, textiles and more, could be fatal. For that reason, three years ago, "Lao Silesu Middle School" implemented an experimental plan for distance education (homebound education) via Internet videoconference. The final examination, however, was not guaranteed to be approved. "Last Friday, there was no certainty that I could take the exam," said the girl from her cleaned up bedroom. "Luckily, everything was resolved in the best possible way."
THEME. The teenager, in the written Italian test, has recounted her own experience. The topic invited her to write a letter to a friend, and she expressed her joy in being able to take the exam, listed future projects and the difficulties she encounters living with this disease. She told of transferring to another center, where she lived for some time, because in the city she could not tolerate the fumes and smoke coming from her neighbor's chimneys.
"If I'm promoted", said the girl, "I'll enroll in High School."
THE COMMISSION. Now, however, it's time to think about that last written and oral test. "Everything is going very well," assures the president of the Commission, Pierluigi Pusceddu, "The student does the assignments at home and then sends us a copy via fax. Thanks to the video camera affixed to her computer, we can follow step by step without ever losing sight of the student during the entire exam.
Even the two brothers of the 13-year-old, also affected by the same illness, follow the lessons via videoconference. "We are very pleased that they are able to take the exam, and commend the leadership of the Lao-Silesu Middle School, Elizabeth Cossu, and equally grateful for the sensitivity shown by the Administration."
~ Giorgia Daga, published June 18, 2011, L'Unione Sarda
translated from Italian to English by Tovah Hagan

Resources for those suffering from chemical sensitivity in Italy:
Associazione AMICA Advocacy group based in Rome
Fibromialgia, CFS e MCS Roma, Italia e mondo gruppo auto aiuto Facebook support group
MCS Riconoscere la malattia anche in Italia Facebook support group