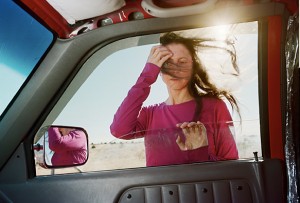 Photographer and nearly-fully-recovered MCSer Thilde Jensen has started a kickstarter campaign to help fund a second trip across country to photograph more environmentally sensitive "canaries" for her upcoming book. When you donate to her project, you'll receive a variety of perks, depending on your contribution amount, from a signed print from the Canaries series and credit in the book to a signed copy of the book itself and an invitation to the book release party.
Thilde is hoping to raise $10,000 to cover her cross country trip, film and development, and the cost to self-publish the book. She needs to raise the full $10,000 by Sunday, March 18, 11:59pm EST – as with all kickstarter.com fundraisers, if the total cost of her campaign is not met by the deadline, then all monies will be returned to the donors.
The Canaries series has already received much media attention, including a show at the Lightwork Gallery last year in Syracuse, NY and an interactive feature in the New York Times. Additional media sightings are listed on her kickstarter campaign homepage.
Thilde Jensen was born in Denmark. An early exploration into filmmaking at the European Film College lead to an interest in photography. In 1997 she came to New York City to study photography at School of Visual Arts. Six years later her life and emerging career as a documentary and editorial photographer was cut short by a sudden development of severe environmental illness.
In 2010 Thilde discovered Annie Hopper's Dynamic Neural Retraining System™, an experimental neural reconditioning therapy being used for limbic system impairment disorders. She has enjoyed an 80+% recovery since taking the workshop, which allows her to now travel around the country to complete the Canaries series.
Visit her kickstarter campaign page to see a video where she shares about the project, and to find more details about the book.
See also: Environmental Illness makes NY Times | Thilde Jensen's recovery from environmental illness
photo of Planet Thrive's Julie Genser from the Canaries series © 2011 Thilde Jensen