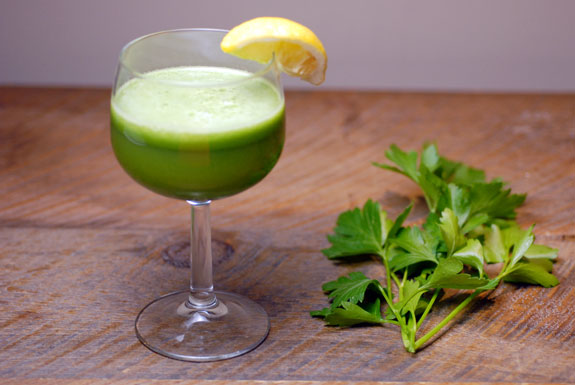 Green juice made with just three ingredients is ultra refreshing.
photo provided courtesy of elanaspantry.com

Happy New Year! Just in case you are still deciding on your New Year's resolutions, I found a bunch of quick and easy ones in Esquire Magazine.
If you're going to sit naked on a couch, put a towel down
In emails, use capital letters at the start of sentences, except when in a real hurry
Join a gym. (I'm not saying go. Just join.)
Chew your food two times more per mouthful
Forgive yourself sometimes
And a bonus resolution? Maybe drink a bit of green juice when you're in the mood. Here's a recipe to help you out.
ingredients
1 bunch parsely
2 cucumbers (I leave the peel on)
1 lemon (remove yellow part of skin)
directions
Push parsley, cucumbers and lemon through a juicer
Serve
makes (1) juice
The reason I remove the yellow part of the lemon skin is that it can be very bitter when juiced. I leave the white part of the skin on as it full of healthy bioflavonoids. This tangy, refreshing juice is great with breakfast, as an afternoon pick-me-up, or any other time of day.
recipe courtesy elanaspantry.com