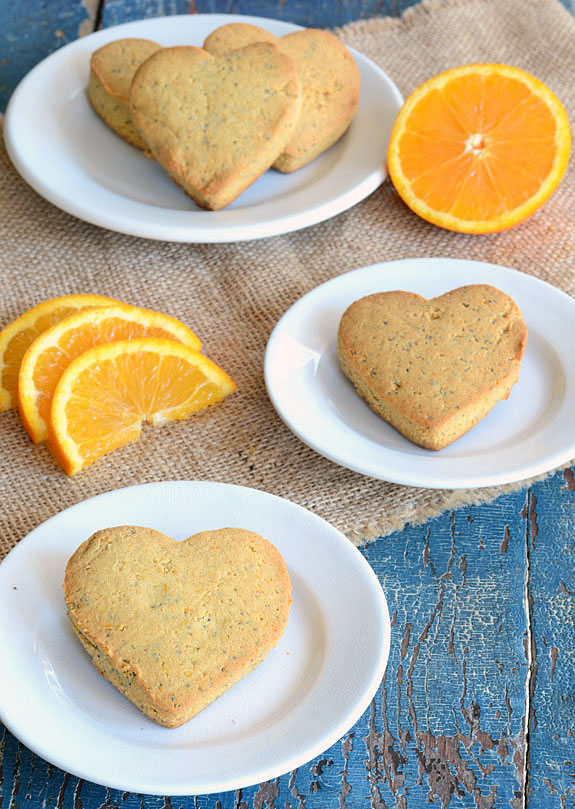 I made these paleo Orange Poppy Seed Scones in honor of Valentine's day. Truth be told, this holiday is not much of a thing in our house. If it's convenient, my husband and I will go out to dinner on the night of Valentine's day to celebrate each other and our relationship. Frankly though, I don't put much stock in this holiday. Feel free to call me a grinch! However, when it comes to baking I'm a total holiday geek. And these heart shaped scones really bring out the baking nerd in me.
If you're wondering how to make healthy scones you're totally in luck today! This gluten-free, dairy-free scone recipe contains only seven ingredients –almond flour, salt, baking soda, honey, egg, orange zest, and poppy seeds.
If you are looking for a nut-free scone recipe, try my Paleo Chocolate Chip Scones. If you're in need of an egg-free recipe, well, I can't be of quite as much help with that. I haven't had much success, in creating grain-free baked goods that are egg-free as well. If you do decide to experiment with this recipe please leave a comment and let us know your results! The only way to find out if a substitution works is to try it.
ingredients
2 cups blanched almond flour
¼ teaspoon celtic sea salt
¼ teaspoon baking soda
¼ cup honey
1 egg
1 tablespoon orange zest
1 tablespoon poppy seeds
directions
In a food processor combine, almond flour, salt, and baking soda
Pulse in honey, eggs, and orange zest
Very briefly pulse in poppy seeds
Roll out dough to ½-inch thick between 2 pieces of parchment paper
Chill dough in freezer for 15 minutes
Using a heart shaped cookie cutter, cut hearts out of dough
Transfer to a parchment lined baking sheet
Bake at 350° for 25-30 minutes
Cool for 30 minutes
Serve
makes 6 scones
When I made these Orange Poppy Seed Scones, I used a heart shaped cookie cutter of a fairly large size. In fact, the cookie cutter measured 2-½ inches wide at its widest point. If you use a smaller cookie cutter you will need to reduce the baking time of the scones or they will overcook. Likewise, if you make larger heart scones you will likely need to bake them for longer.
recipe courtesy elanaspantry.com