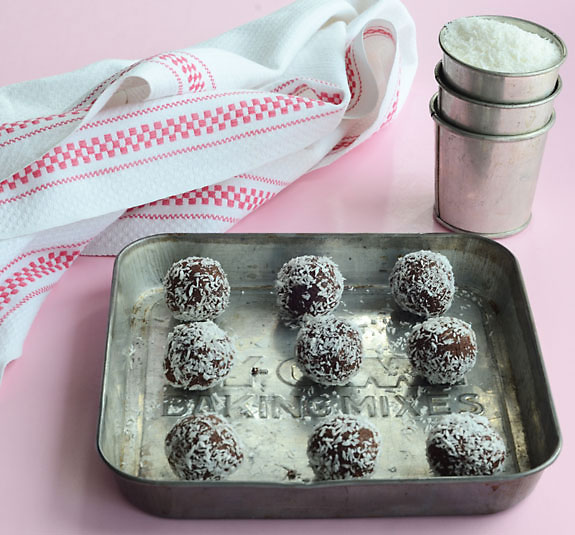 I'm on a bit of a raw foods kick lately. I've been making nut milks for myself and the boys, and I've just created my fourth recipe for this website that uses the leftover almond pulp from my Almond Milk recipe. Given how expensive almonds are right now this strategy is key!
These super easy no-bake cookies have only 5 ingredients — 100% dark chocolate, almond pulp, dates, coconut, and salt. I haven't tried it yet, but I imagine these Paleo Raw Chocolate Bites would taste amazing with Brazil Nut Milk pulp. If you would like a little kick in your raw cookies, you could try using Tumeric Root Milk pulp in these. If you do decide to try out any of the endless possibilities please leave a comment to let us know how they turn out!
ingredients
4 ounces 100% dark chocolate, chopped
½ teaspoon celtic sea salt
1 cup almond pulp
1 cup Medjool dates
½ cup unsweetened shredded coconut
directions
In a food processor pulse chocolate and salt until the texture of coarse sand
Pulse in almond pulp, then dates, until well combined
Scoop batter 1 level tablespoon at a time onto a plate
Place shredded coconut in a bowl
Dip each ball into shredded coconut
Serve
makes 20 bites

You may wish to use a sweeter chocolate in this recipe if you have young children. I think these raw cookies would work really well with a 75% chocolate such as Kallari, or an even sweeter product such as Enjoy Life Chocolate. This is a great healthy homemade cookie recipe that your little ones can help make. Have them roll the dough into balls for you and dip the cookies into the shredded coconut. That's what I call free labor, and it will keep the kids out of trouble. I love putting my boys to work in the kitchen. It's become incredibly helpful over the years and a wonderful source of bonding for us!
recipe courtesy elanaspantry.com