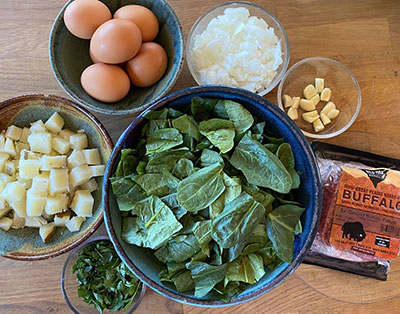 I felt so inspired by Mia Moisi's Tunisian Spinach Tagine recipe posted here recently, that I wanted to make my own version of this dish. I love adapting recipes to fit my own dietary likes and requirements! I decided to use bison (buffalo) instead of lamb, and to add some herbs and spices not included in Mia's recipe. The result was delicious — and oh, so nutritious!!
Some of you may know, that I have a thing for Morocco and the Middle East. I traveled there for six months many years ago (2 months backpacking alone in Morocco, and 4 months throughout the MIddle East). Recipes for Middle Eastern dishes hold a special appeal for me. I was so intrigued to learn from Mia that Tunisian Tagines are totally different than Moroccan Tagines! Moroccan tagines are more like a stew and are usually eaten with couscous. The Tunisian tagine is more like a crustless quiche with meat. It also reminds me of a Shepherd's Pie, with egg. Tunisians typically use lamb, chicken or tuna as the meat protein — I chose to use a more nutrient-dense buffalo in mine. They also usually use potatoes, parsley, eggs, spinach and cheese.

I love meals like this that have a wide array of nutrients — protein, fats, veggies, spices and herbs. Tunisians usually eat this as a side along with a salad, or as an appetizer, but you are certainly welcome to make it your main dish.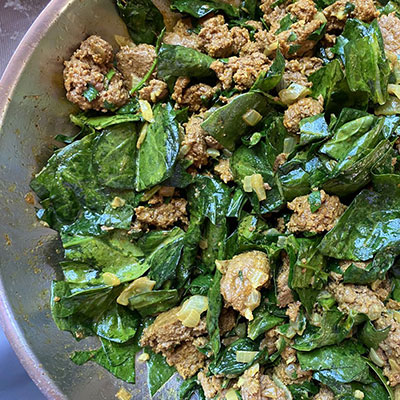 ingredients
• 1 lb chopped meat (bison, chicken, beef, lamb)
• 1 bunch spinach, washed, rinsed, dried and chopped
• 6 eggs, whisked
• 1 onion, diced
• 1 c chopped potato, steamed and cooled
• 1/2 c parsley, finely chopped
• 3 oz cheese (I used goat but you can use Swiss or any meltable cheese)
• 2 tsp turmeric
• 1 tsp coriander
• dash of cayenne
• fresh thyme, rosemary
• sea salt, to taste
• black pepper, to taste
method
1) Boil potato until slightly soft, drain and let cool.
2) In a skillet, cook the onion. When it starts to soften, add the meat.
3) While the meat is cooking, add the spices + seasoning. Add the garlic, spinach and parsley and cook until the spinach is wilted.
4) Preheat oven to 400 degrees Fahrenheit.
5) Let all cooked ingredients cool to room temperature before adding to the egg mixture (you don't want to cook your eggs too quickly!).
6) Combine the cooled meat mixture with the whisked eggs, steamed potato, and cheese if you are using it. When I made this dish, I only had a small amount of cheese so I just sprinkled it on top.
7) Grease an ovenproof dish ~ 9″ x 12″ and add the mixture to the dish.
8) Bake for 30-35 minutes or until your knife comes out clean.
9) Let it cool slightly before slicing.
10) Enjoy!!
Audio source on video: Jamendo
Please subscribe to my youtube channel and follow me on Instagram for more cooking videos!