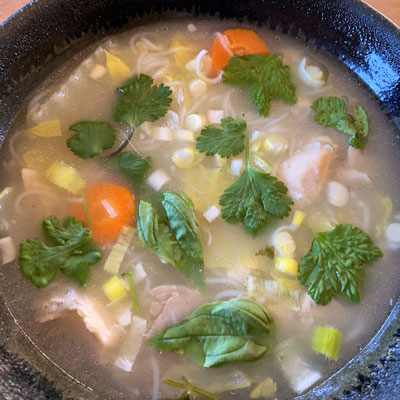 I found this soup surprisingly easy and quick to make. It's made with bone-in whole chicken leg so the broth gets to develop a beautiful depth of flavor. If only I lived in Thailand and could pick lemongrass stalks fresh from my front yard (something I used to do when I spent 6 months in Southeast Asia in the late 90s) rather than buy expensive mini stalks in plastic containers from Whole Foods … one of my disappointments about not living near an Asian marketplace. That said, I feel grateful that they sell lemongrass here and I have access to it. Hopefully you can find it at your Whole Foods, local health food store, Farmer's Market — or, if you're fortunate, at a local Asian market.
Maybe it was my time in Asia that got me partial to Asian soups. I am especially loving recipes that use bone-in meat and create a nutritious stock right in the pot, ready-to-eat. This is a basic broth that can easily be added to with your favorite vegetables, herbs and spices if you prefer something more complex.
The base is made with chicken thigh and leg, lemongrass, onion, sea salt, and water. I added rice noodles, Napa cabbage, carrot, scallions, cilantro, and basil. The result is warming, soothing to the tummy, and full of crunch, silky smoothness, and pops of flavor with each bite. It feels filling in the best way. I've really gotten into eating soups for breakfast this winter, and this has become a quick favorite!
Lemongrass Chicken Noodle Soup ingredients
• 2 lbs whole chicken legs (thigh + leg), bone-in, skin-on, preferably from organic, pastured chicken
• 3-4 stalks lemongrass, smashed (see method for how-to)
• 1 onion, peeled and cut in half
• 2 tsps sea salt, or to taste
• 8 cups cold water (I had 2 cups of homemade chicken stock that I subbed in — the original recipe I adapted suggested using chicken bouillon, which I preferred not to use)
To Serve:
• 4 oz rice noodles (dried), any style you prefer — I used angel hair this time
• a few sprigs of cilantro, chopped
Optional Add-Ins:
• soft-boiled egg, for extra protein
• carrots
• baby Bok Choy or Napa Cabbage
• fried shallots
• scallions
• mung bean sprouts
• basil, mint — any combination of other fresh herbs you love
• jalapeno slices
• sriracha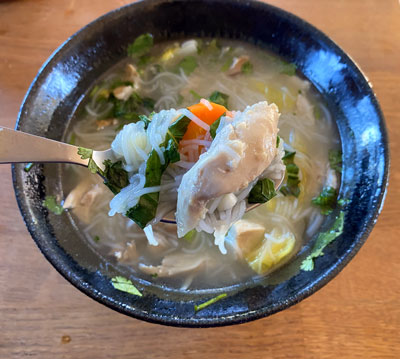 Lemongrass Chicken Noodle Soup method
Place chicken legs whole, or cut into two pieces (thighs + legs), into stockpot.
Prepare lemongrass stalks by smashing them (one-at-a-time) on your cutting board with a mallet or rolling pin. They should look bruised or split open, and smell fragrant — so their aroma can release into your soup base.
Place smashed lemongrass in stockpot along with onion, sea salt, and water.
Bring to a boil and then strain off any scum + fat that rises to the surface. This will ensure a clear broth.
Turn down heat to medium-low and simmer for 30 minutes.
While that's cooking, prepare your rice noodles. (It's important to make them separately so they don't get gummy or overly soft.) Place them in a heat-resistant container or bowl and cover with boiling water. Let stand for about 5-10 minutes (depending on thickness of rice – check package for best time), then drain and rinse with cold water.
When the soup is ready, remove the lemongrass stalks and onion. Then take out the chicken and place on a plate or in a bowl. Remove the skin and shred the meat until it is completely off the bone and in bite-size pieces. Place the chicken meat back into the soup.
Add any vegetables you choose. Cook for another few minutes.
Mix everything together, add your drained noodles, herbs + garnishes, and serve.
Let me know in the comments below if you make this soup and how you like it!
original recipe I adapted: Lemongrass Chicken Soup