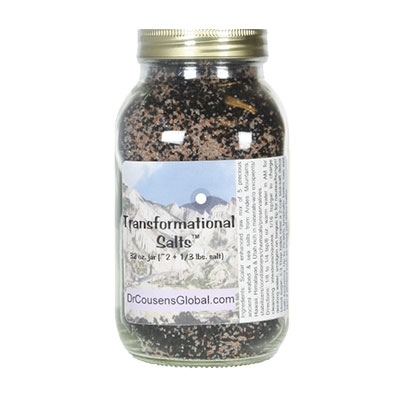 This month's focus is on Transformational Salts by Holistic People™ and sold by Dr. Cousens Global. The website states that this blend is made of "five of the most pure, mineral-rich, highest-frequency salts in the world." They say salt is a crystal and that this salt is the only true scalar wave activated crystalline salt that exists. In other words, it's high-frequency,
The salts included in this mix are all raw, unheated, unbleached, unrefined, and explosives-free. They come from ancient seabeds and sea salts from the Peruvian Andes Mountains, Himalayas, and the United States. They do not contain excipients, stabilizers, conditioners, chemicals, preservatives, rocks, shells, microplastics, or other toxins or pollutants.
This is a culinary sea salt that you can use as you would any other sea salt. The packaging also offers these additional uses:
Charge drinking water: 1/16 tsp per 1 gallon of water;
Rehydrate: Some people may need 1.34 to 3 tsp daily for 3 months to 2 years (1/8 tsp to 16 oz water), especially when exercising and losing salt through sweat;
Cleanse intestines: 1/2 tsp to 16 oz warm water in the morning;
For nausea, other detox symptoms, hunger, or blood sugar issues: 1/8 tsp on tongue tip followed by 16 oz of water;
Detox bath: Add 2-3 TBS to raise the frequency of 2 cups sea salt (not Epsom);
Detox shower: Rub 2-3 TBS onto dry skin-brushed and showered body, sit for 12 minutes while the salt remains on the body, then rinse.
I've been using this salt blend for years, on and off, ever since I went to the Tree of Life Center in Arizona in 2013, the former raw food retreat space of Dr. Gabriel Cousens. I've only used it as a culinary salt; not for any of the other uses mentioned. I really enjoy using it because it has five different sea salts from locations all over the world, so the mineral profile will be more balanced, overall.
This sea salt is not inexpensive, but it's a large amount (40 oz) and will last a while. It will fill a quart mason jar. You can order it here: Transformational Salts.
Check out more health-supportive products hand-selected by us, just for you, in our Planet Thrive Lifestyle Directory.