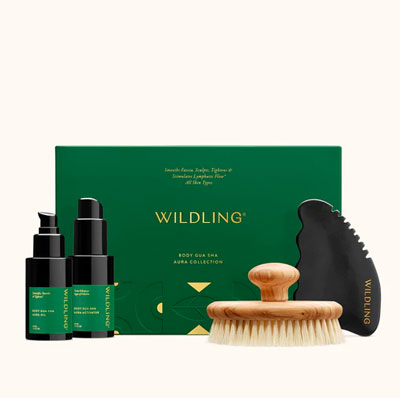 This month I'd love to share about Wildling. They make Gua Sha tools and products to help lift, plump, and sculpt face, scalp and body. Gua sha originated in China during the Ming Dynasty (1368 – 1644) and has its roots in traditional Chinese medicine. For thousands of years, people in China and other Asian cultures have used gua sha at home to increase circulation, move lymph, and reduce inflammation. "Gua" 刮 means "to scrape" and "Sha" 痧 translates as "disease, illness, or sand". This refers to the small red spots that may appear on the body when firm pressure is applied and may indicate disease, stagnation, and/or heat leaving the body.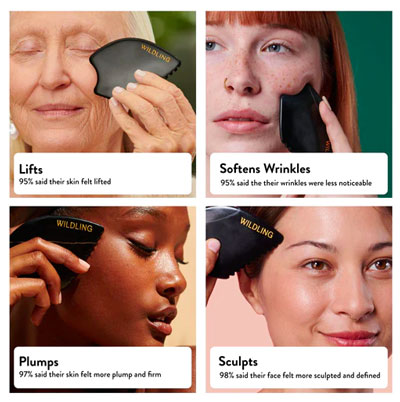 Wildling's patented facial gua sha tools were designed by an acupuncturist to lift, plump, sculpt, tone, and brighten the skin. They also offer plumping whole plant oils formulated by an herbalist, to be used during the gua sha practice. Their skincare products use organic ingredients and active botanicals to increase circulation and detoxify the skin. They are suitable for all skin types.
The gua sha ritual begins by cleansing the skin, applying a toner and then following with an oil. You then use one of the gua sha tools to glide over different parts of the face, scalp or body. Wildling has a comprehensive library of short videos that guide you through many gua sha rituals. They are easy to do, take little time, and can provide targeted results like depuffing puffy eyes, smoothing out jowls, plumping thin lips, and easing headaches.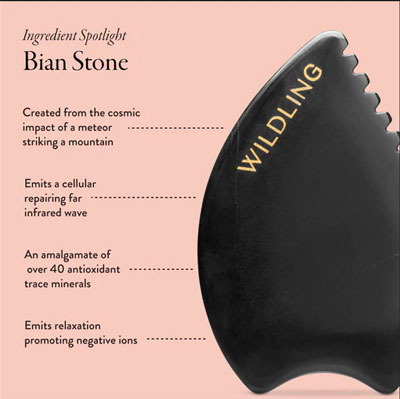 I just finished their 21 Day Facial Gua Sha Challenge. The challenge involved taking before and after photos during the process. Each day, I would receive a detailed gua sha routine in my email inbox to complete on my face. The routines suggested the use of the Empress Stone and Empress Wand gua sha tools, and the Empress Tonic and Empress Oil skincare products. I used my own hydrosol tonic and squalane oil along with the Empress stone and wand. I did their routines religiously for 3 weeks, as directed. The second day I experienced a migraine, which I can get when I am overwhelmed by toxicity. This showed me that these simple daily skincare routines are, indeed, moving toxins out of the face. I decided to move through the pain and continue with the challenge, and my migraine went away after a day.
Doing the 21 Day Facial Gua Sha Challenge felt very loving. Focusing on self-care each morning and caressing my skin with the oil and gua sha tools became a routine I looked forward to each day. My skin looked and felt toned and smooth and my face was glowing. The biggest improvement for me seemed to be circulation — bringing oxygen-rich blood to my facial skin cells and moving toxin-packed lymph out. I received several compliments during that time on how good I looked. I have continued to do my facial gua sha each morning even after completing the challenge. I can't imagine wanting to stop – it makes me feel so good at a time in my life when age is starting to take a toll. I love feeling like I have something I can do each day to look — and feel — my very best. A five to ten minute ritual where I can focus on self-love and feel deep tenderness for the healing journey I have been on in this lifetime. Here are my before and after photos — no filters!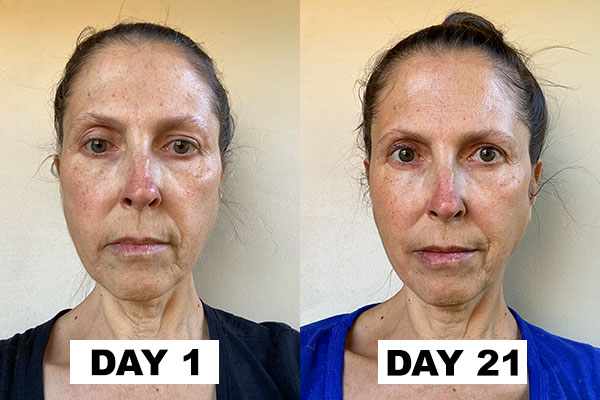 Find Wildling and other high quality non-toxic lifestyle products in the Planet Thrive lifestyle directory. Learn more about Wildling and their gua sha products on their website: Wildling.com.