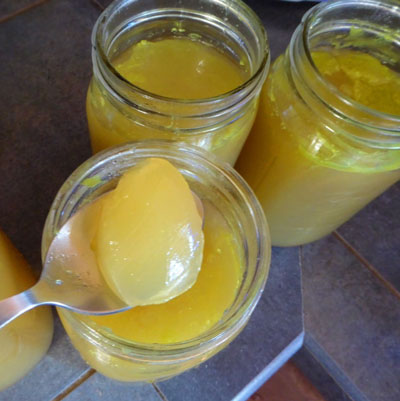 The ultimate gut soother, this gelatin-rich chicken feet stock is full of glycine — an amino acid that helps to form collagen, regenerate cartilage, form connective tissue, heal the gut lining, and repair skin damage — as well as proline, an amino acid that contributes to cellular growth, decreases oxidative stress, encourages insulin response in healthy people (and many help prevent diabetes) and improves brain and muscle performance. I've been making it regularly for years to eat on its own or use as a base for some deliciously healthy soups, like my Lemongrass Chicken Noodle Soup or Gut Healing Congee.
I use the basic chicken stock recipe that I use with a whole chicken, but just substitute chicken feet, which contain higher amounts of gelatin. The recipe can be customized with nutrient-dense herbs and seaweeds for more targeted benefits. I use the Instant Pot (a pressure cooker) when I make stock or bone broth in order to keep histamine levels low, as slow cooking can result in high histamine levels and should be avoided by those who are sensitive to it.
Chicken Feet Stock ingredients
• 2 cups chicken feet (I buy mine from Whole Foods or Grassland Beef
)
• 1 carrot, chopped into large chunks
• 2 celery stalks, chopped into large chunks
• 1 yellow onion, peeled and cut in half
• 1 piece kombu/kelp (or omit and add 1 tsp sea salt)
• 8 black peppercorns or a pinch of ground black pepper
• 1 bunch flat-leaf parsley
• filtered or spring water to just beneath maximum fill line (~ 1/2 gallon)
Optional Add-In ingredients
• 1 bunch cilantro
• 1/4″ chunk raw turmeric or 1/2 tsp turmeric powder
• 1″ chunk raw ginger, cut in half the long way
• 4-5 slices dried astragalus root
Chicken Feet Stock method
Place all ingredients into Instant Pot, except for the parsley and cilantro, if you are using them.
Lock in cover, making sure the Instant Pot is set to "seal" and not "vent."
Pressure cook on high for 45 minutes.
Let steam release naturally until it moves from the "seal" to the "vent" position.
Carefully remove the lid and place the parsley and cilantro into the stock, leaves first. Leave the stems sticking up so they are easy to retrieve. Let steep for 15 minutes, then remove.
Strain liquid and portion into jars.
Place jars in refrigerator once cooled and leave overnight.
By the next day, the stock may have taken on a jello-like consistency due to the high gelatin content. Remove and discard the fat that rose to the top, then use or freeze the stock.
Enjoy as a broth or as a base for your favorite soups!