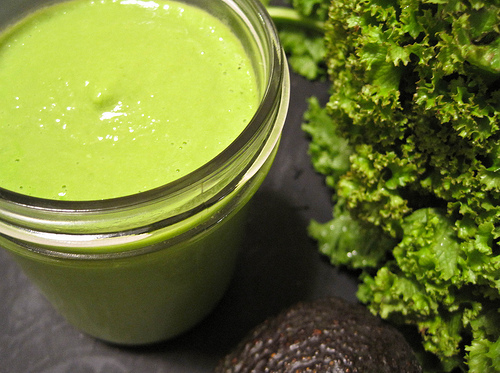 photo provided courtesy of affairsofliving.com

Somehow, mustard greens have eluded me all these years. I've cooked with every other green on earth, it seems, even the wacky ones from the Asian market that I can't identify, but never mustard greens. I've really been craving pungent flavors lately, and had heard rumor of mustard green's intense flavor, so I was understandably intrigued.
Yesterday at the co-op, I finally decided it was time to inquire about the mustard greens. The friendly co-op produce man let me tear off a little corner of the one the curly leaves and have a taste. I was hooked! It was an explosion of mustardy, almost horseradishy, pungent spicy goodness. WOW. I promptly threw a bunch in my cart. Only $1.99 for a bunch of organic mustard greens?! Much cheaper than the $2.79 price currently on kale and chard. Deal!
Once I got home and was starving, I decided that the spicy flavor of mustard greens would be an awesome base for a vinegar-free salad dressing. As anyone who needs to avoid vinegar knows, vinegar-free salad dressings are hard to come by. This is a great solution, since the naturally bitey flavor of mustard greens adds so much BAM! It turned out great, thick and bitey and creamy and wonderfully bright green. It has a pungent flavor that intensifies as it sits – I can't believe how pungent raw mustard greens are. Avocado adds a nice texture and rich flavor, and chickpea miso adds a salty flavor and loads of healthy, naturally occurring probiotics. This is one vibrant dressing, that's for sure. And easy too – throw it all in the blender, and you're done.
It made quite a big batch, but should last in the fridge for 4-5 days, so you'll have plenty for salads for the week. Or, if you're like me, you'll manage to eat half the batch in one sitting and it will be gone before you know it. My favorite way to eat fresh salad dressing? Dipping long spears of crunchy romaine lettuce hearts straight into the jar, and eating them greedily, with dressing dripping onto my chin and generally onto my shirt too. Try it sometime. It's like chips and dip. But not.

ingredients
Make sure your garlic is very fresh; old garlic tastes bitter. Never one to be shy about fat, I added a generous glug of flax oil, but if you prefer to live without added oil, feel free to omit, it will still turn out great.
2 cups packed mustard greens, coarsely chopped
1 small avocado
1/4 cup chickpea miso (or soy, if tolerated)
1 small garlic clove
1 1/2-2 cups water
1/4-1/2 tsp vitamin C crystals (or 1-2 Tbsp lemon juice), to taste
optional: 1Tbsp olive oil or flax oil

directions
Place all ingredients with 1 1/2 cups water in a high powered blender, and blend until totally smooth, adding additional 1/2 cup water as needed to reach desired consistency. If using a Vita-Mix, use the tamper to help smash everything down. If using a regular blender, you may need to stop and scrape the sides occasionally.
Blend until totally smooth, and store in a tightly sealed jar in the refrigerator.
makes 2 1/2 cups

recipe courtesy affairsofliving.com