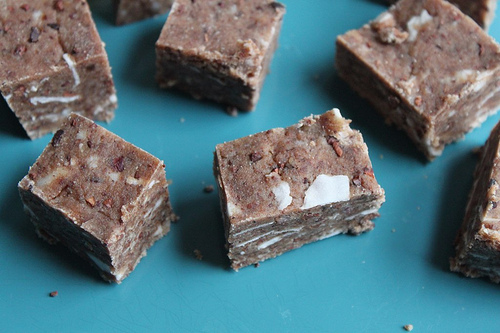 photo provided courtesy of affairsofliving.com

It's no secret I love everything from Tropical Traditions. Their coconut products are made from fresh organic coconuts, grown by dedicated family farms in the Phillipines. Everything is produced small batches and tested for quality, ensuring that we receive the freshest, highest quality coconut oil possible. I feel confident that when I'm using their products, I'm supporting a good manufacturing practices and getting the most nutrition possible for my money.
One of my favorite products is their Coconut Cream Concentrate, a delightful product that goes by the name of coconut butter by other brands and in the blogosphere. I've made my own coconut butter before (shredded coconut + food processor + patience), but the texture is always a little gritty. While the dollar amount is much friendlier on homemade coconut butter, I really prefer the creamy smooth texture of the storebought. So, sometimes I splurge and buy a jar.
Coconut Cream Concentrate is made from the flesh and fat of raw coconuts. It is white, thick, and fragrant, full of coconut goodness. When chilled, it is very firm, almost like candy. When softened, it is creamy and smooth, like a delectable spread. It can also be mixed with hot water to create a natural coconut milk or used in soups, stews, and daals to create a wonderfully rich coconut broth. Because it is naturally sweet, Coconut Cream Concentrate is also the perfect way to satisfy a sweet tooth on a sugar-free diet. A little chunk on its own is a wonderfully satisfying treat, and it is brilliant included in sweet treats from pie to truffles, cookies to smoothies. Because it hardens at cool temperatures, it is great to use when you want a firm consistency in raw desserts.
In addition to being delicious, Coconut Cream Concentrate offers all the awesome nutrition of raw coconut, including fiber, protein, medium-chain fatty acids, a variety of vitamins and minerals, and lauric acid (a naturally occurring acid with potentially antimicrobial and antiviral properties).
Please note that Coconut Cream Concentrate or coconut butter is different than coconut oil. Coconut Cream Concentrate contains fiber and fat, while coconut oil is just oil. Since they have very different properties, the two cannot be used interchangeably. Coconut Cream Concentrate should never be used as a cooking oil, and cannot substitute coconut oil in any recipe.
Inspired by my love for Coconut Cream Concentrate, I made a recipe for you. It is kind of like fudge, kind of like candy, and totally delicious.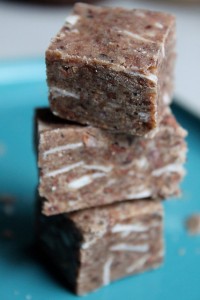 ingredients
• heaping 1/2 cup raw cacao nibs
• 9 large medjool dates, pitted
• 3/4 cup softened Tropical Traditions Coconut Cream Concentrate or another brand of raw coconut butter (NOT COCONUT OIL)
• 2 Tbsp raw cashew butter, or other raw seed/nut butter
• 1/4 tsp ground cinnamon
• handful unsweetened coconut flakes, lightly crushed OR a handful unsweetened shredded coconut
• pinch unrefined salt

directions
Soften the coconut butter in a double boiler until it is soft enough to smoosh with the back of a spoon. If it is not soft, it will not mix properly with the other ingredients.
Place half the cocao nibs in a food processor and process on high on they are coarsely ground. Then add dates and remaining cacao nibs and process until a paste forms. Then add softenend coconut butter, cashew butter, salt, and cinnamon, and process on high until soft crumbs form. Then add a handful of coconut flakes and pulse a few times to combine. The mixture may look dry, but it should be very soft and malleable when you form it. If it crumbles when you try try to form a ball, add more cashew butter or softened coconut butter bit by bit, just until it is soft enough to form.
Form into bite-size balls, or form into a square or rectangle about 1-inch high on a parchment covered pan or plate. Chill in the refrigerator for at least 30 minutes, or longer. Serve the balls as is, or cut the squares into bite-size pieces. Serve!
Note: If your house is below 72º F and you don't mind a slightly softer fudge/truffle, these can be stored at room temperature. Any hotter than that and the coconut butter starts to get too mushy for room temperature storage!
makes about 24 squares or balls

recipe courtesy affairsofliving.com