posted in <<Elana's Gluten-Free Pantry > Featured > PT COLUMNISTS
Elana's Gluten-Free Pantry
Gluten-free peanut butter patties – tagalongs
another yummy gluten-free recipe from Elana's pantry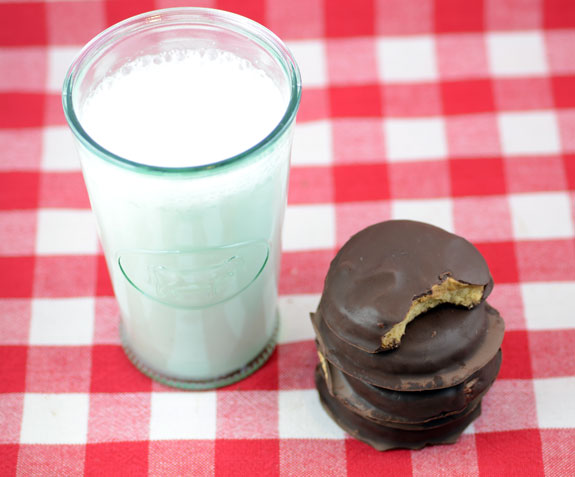 Paleo, gluten-free Girl Scout cookies made with sunbutter, dark chocolate and
an almond flour cookie will rock your world. photo provided courtesy of elanaspantry.com
These Girl Scout cookies are called Peanut Butter Patties or Tagalongs, and guess what? I've made them gluten-free and Paleo. Now you can enjoy
more
gluten-free, Paleo Girl Scout Cookies. No need to give in to cravings for the regular (sugar-filled, gluten-filled) Girl Scout Cookies which are everywhere this time of year.
When I was a girl I was in a troupe called the Blue Birds. It was very similar to the Girl Scouts, except we sold Blue Bird candy instead of Girl Scout cookies. I had great fun going door-to-door selling candy to our neighbors. This was good preparation for the canvassing I later did for NYPIRG after I graduated from Columbia.
ingredients
2 cups blanched almond flour
¼ teaspoon celtic sea salt
½ teaspoon baking soda
2 tablespoons vegan shortening
2 tablespoons honey
1 tablespoon vanilla extract
½ cup sunbutter
1 cup dark chocolate chunks
directions
In a food processor, combine almond flour, salt and baking soda
Pulse in shortening, honey and vanilla until combined
Roll out dough between 2 pieces of parchment paper to 1/4-inch thick
Chill dough in freezer for 20 minutes
Using a 2-inch cookie cutter, cut out dough
Press your thumb in center of each circle to make indentation
Bake at 350° for 4-6 minutes
Cool cookies for 1 hour
Place one teaspoon of sunbutter on top of each cookie
Freeze for 10 minutes
Melt chocolate over very low heat
Dip cookies in chocolate
Place on a parchment lined baking sheet
Freeze for 30 minutes
Serve
makes (18) cookies
These peanut-free, dairy-free, vegetarian Tagalong cookies are best stored in the refrigerator or freezer –your choice will depend on the level of crunch that you like in your cookie.
recipe courtesy elanaspantry.com
Leave a reply