posted in <<Elana's Gluten-Free Pantry > Featured > PT COLUMNISTS
Elana's Gluten-Free Pantry
Butternut squash latkes for Hanukkah
another yummy gluten-free recipe from Elana's pantry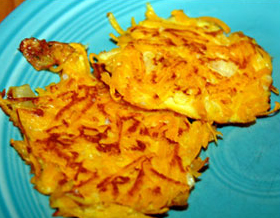 Healthy, gluten free, potato free latke recipe for Hanukkah.
photo provided courtesy of elanaspantry.com

Hanukkah is here and that means only one thing: fried food! Lots of it. Yum. I love a good crispy latke, or just about anything fried for that matter.
Below is my favorite recipe for latkes. I have been making these gluten-free latkes for 5 plus years and my family still rejoices each Hanukkah when I serve them.

ingredients
4 cups butternut squash, peeled and grated
1 small onion, peeled and grated
3 eggs, whisked
grapeseed oil or olive oil, for frying

directions
In a large bowl make latke batter by mixing together squash, onion and eggs
Use your hands to form batter into 3 inch patties
In a large skillet, heat oil
Fry patties on each side over medium heat until golden brown and crispy
Remove latkes from pan and place on a paper towel lined plate to drain excess oil
Repeat Steps 2-4 until batter is used up
Serve with applesauce, sour cream or yogurt

This gluten-free latke recipe is one of my all time favorite dishes. Sweet in flavor and fried to a crisp – what could be better?
serves 6
recipe courtesy elanaspantry.com
Leave a reply