posted in <<Featured > High Desert Healing > PT COLUMNISTS
High Desert Healing
Pete's Paleo: ready-to-eat gluten free meals
rockin' a non-toxic lifestyle in the mountains of northeastern Arizona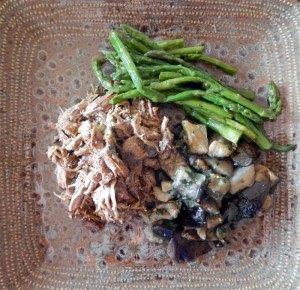 Planet Thrive has recently become an affiliate partner of Pete's Paleo – provider of mail order, ready-to-eat meals delivered fresh nationwide. Pete's Paleo meals are made with grass-fed and pastured animals, organic produce, and are gluten free, dairy free, soy free, egg free, corn free, sweetener free, GMO free, and preservative free. They cook with avocado oil, animal fat, coconut oil, and olive oil (below the smoke point). They do NOT cook with butter or ghee. {Note: Currently they do not offer an Autoimmune Paleo meal plan, but are working on it for the future.)
For sufferers of food intolerances and allergies, companies like these can be a godsend. Yes, you have to pay a premium price for these chef-made meals, but there are various meal plan and shipping options that can reduce the price if finances are an issue. If you live in the San Diego area, you can save on shipping altogether and pick them up yourself. While out-of-reach financially for many on disability, it is a great resource to know about for emergencies – if you find yourself out of commission and unable to shop and cook for yourself during a medical procedure, or just want to treat yourself or a loved one to a week out of the kitchen. It's like having your own personal chef that shops and cooks for you!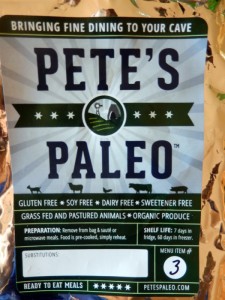 Like most products Planet Thrive promotes through affiliate partnerships, I like to be a satisfied customer who can stand behind the products personally. So last week I ordered a week of meals to see just how good this service is. While I don't experience severe food reactions on a regular basis anymore, I do have to watch what I ingest carefully due to both mild food/chemical sensitivities and severe Crohn's disease. I have been eating a very restricted diet since 2001. I did the Specific Carbohydrate Diet (SCD) for 6 years, which is a fanatical diet that restricts specific carbohydrates like starchy vegetables and legumes in order to starve out detrimental intestinal bacteria that contributes to gut inflammation and disease. Today's popular GAPS diet is based on the SCD. Currently I avoid gluten, sweeteners, soy, most dairy (except grassfed butter and ghee), and grains (except once in a while rice or buckwheat). If I eat out of those bounds I can experience breathing problems and other reactions. So I was still a little uncomfortable ordering food by mail without knowing every single ingredient and source in all the meals. But I took the leap of faith because what I do know is that these meals do not contain most ingredients I react to, and are sourced with the highest standards. Thank you, Pete's Paleo, for giving me peace of mind!
I am midway through my 10-meal vacation from the kitchen and I can share happily that I have not reacted in the slightest to any of the meals! And they have all been delicious! What is exciting to me is that I have been able to expand the types of animal proteins and vegetables I am eating. Those of us with extensive food intolerances know all too well how easy it is to fall into food ruts where we end up eating a small handful of ingredients because they are "safe". For example, I have avoided lamb for many years after reacting to it repeatedly with respiratory distress. Well I am excited to say that for breakfast today, I had Moroccan lamb tagine with no issues! Those that know me know that I love Morocco and all things Moroccan. So this is a huge benefit to me, to discover I can eat lamb again. I'm taking my Moroccan cookbook off the shelf and dusting it off – lamb tagine and lamb kefta, here I come!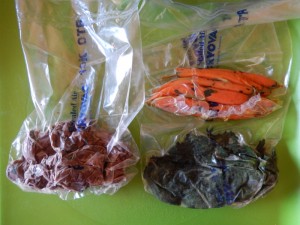 So, you might be wondering, who is Pete – the man behind the meals? Pete is a classically trained chef from Le Cordon Bleu and has worked in the restaurant industry for over 15 years. Pete's Paleo highly values using seasonal ingredients, so they offer four different menus throughout the year. Within those seasonal menus, they offer 4 different weekly meal plans, and ingredients are treated differently each time they are used so your taste buds don't get bored! Each meal contains 5-6 oz of protein and two 2-3 oz side dishes. They also offer a "Hero" upgrade for those who want to double the protein in each serving, for an additional $35.00 per week. Or you can add an additional side for each meal for an additional $20.00 per week. The meals are packaged in BPA-free plastic bags and vacuum-sealed for maximum freshness.
I ordered week 1 from the Summer Menu. Some of the meals I have been eating include:
• Moroccan lamb tagine with roasted eggplant and asparagus roast
• Dry braise pulled chipotle chicken with zucchini and roasted Brussel sprouts
• Grass-fed flat iron steak with Chinese five spice, sauteed spinach and acorn squash
I am looking forward to trying tomorrow's venison chili with zucchini and roasted peppers (I've never had venison before but want to add more wild meats to my diet!), and pineapple and coconut milk poached pork with lotus root and cucumber salad and sauteed chard.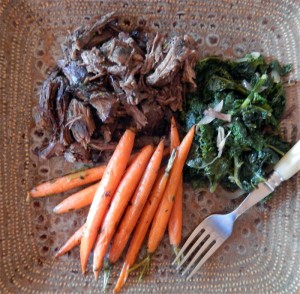 What eating Pete's Paleo meals has done for me is inspired me to start cooking again in large batches and freezing portions for future use, expanding the types of animal proteins I source from as well as the variety of vegetables I eat. They also sell a cookbook which I've ordered for inspiration, as well. What started as a total luxury spend, has turned into an experience that is serving to inspire me in my own cooking and helping to expand my own culinary horizons while staying within the high standards I have for purity and allergen-avoidance. I'm so glad I bit the financial bullet and splurged on this meal plan for a week.
If your pocketbook and your palette allow you to treat yourself to a week of fresh, ready-to-eat high quality paleo meals, I highly recommend Pete's Paleo! Please share in the comments below if you do try it – let me know what you think. And if you know of other delicious and nutritious meal plan services like this one, I'd love to hear your experience!*
*Note: If you currently suffer from severe food intolerances and allergies, I do not recommend any mail order service. It is best to err on the side of caution and make 100% of your food from scratch yourself so you can control what you ingest from the supermarket to the table. If your reactions are not severe, you may be more comfortable taking some risks with your food.
Leave a reply