developed by: R. Paul St. Amand, MD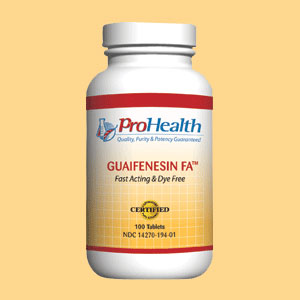 According to Wikipedia.org:
Guaifenesin Protocol is a popular, experimental, alternative treatment for fibromyalgia proposed in the 1990s by R. Paul St. Amand, MD. The treatment involves three parts: titrating to the proper guaifenesin dosage, avoiding salicylates, and following a low carbohydrate diet if the patient is hypoglycemic. Guaifenesin has not been approved by the FDA for the treatment of fibromyalgia, and the protocol has not been shown to be effective in clinical trials as of 2005. It has been adopted by many due to anecdotal evidence of success.
What is Guaifenesin?
Guaifenesin is an expectorant drug usually taken orally to assist the expectoration ("bringing up") of phlegm from the airways in acute respiratory tract infections. Proponents of the guaifenesin protocol believe that it cures fibromyalgia by removing excess phosphate from the body.
Why Avoid Salicylic Acid?
Salicylic acid in even tiny amounts blocks guaifenesin from binding in the kidneys. It is present in many drugs such as aspirin, Salsalate, Disalcid, Anacin, and Excedrin. Plants produce salicylic acid, so herbal medications must be avoided as well as plant oils, gels and extracts in cosmetics and any product that touches the skin. These ingredients include aloe, castor oil, camphor, and mint. Any plants can be eaten, however, because the small amount of salicylic acid present in food is broken down in the digestive system and tagged with glycine by the liver before reaching the kidneys.
Treating Hypoglycemia
Many symptoms of hypoglycemia are similar to fibromyalgia, and while leaving hypoglycemia untreated will not hinder the reversal of the disorder with guaifenesin, the symptoms will continue to plague the patient. The only treatment is a life-long avoidance of simple sugars, caffeine, starchy foods, and any other foods that cause insulin spikes.
source(s): Wikipedia.org, Fibromyalgia Treatment Center