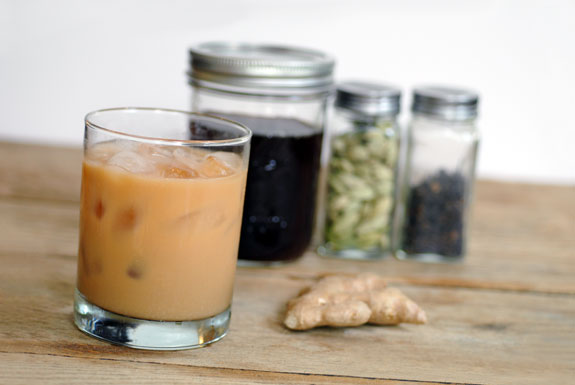 photo provided courtesy of elanaspantry.com

I love a good cool, yet spicy drink in the summer. This Iced Ginger Chai recipe is based on one of my favorite products, Bhakti Chai. It's heavy on the ginger, cardamom and black pepper which I love.
While I love Bhakti Chai, it does not like me; there is way too much caffeine in this drink for my body type (vata). Even the decaffeinated product contains small amounts of caffeine, so in my version, I use roiboos tea as the base, to get that black tea flavor without the caffeine.
There are many ways that you could adapt this recipe, more spices, less spices, different spices, ground spices –feel free to experiment with it, and if you do, please be sure to stop back by, join the conversation, let us know what changes you made and how well they worked.

ingredients
2 quarts water
½ cup finely chopped fresh ginger (I leave the skin on)
10 pods cardamon
5 whole cloves
10 whole black peppercorns
½ teaspoon fennel seed
¼ cup organic loose rooibos tea

directions
Place all ingredients in a pot and bring to boil
Reduce and leave pot on stove with mixture at a rolling simmer for 30 minutes
Turn off heat; allow mixture to remain in pot overnight to continue steeping without heat
Strain mixture into a 1 quart mason jar –you will have between 3-4 cups of chai concentrate
Fill a glass with ice, 1 cup chai concentrate and ¼ cup almond milk (or milk of your choice)
Add stevia (or agave nectar) to taste
Serve
recipe courtesy elanaspantry.com